Benguela's mothers day treat is a go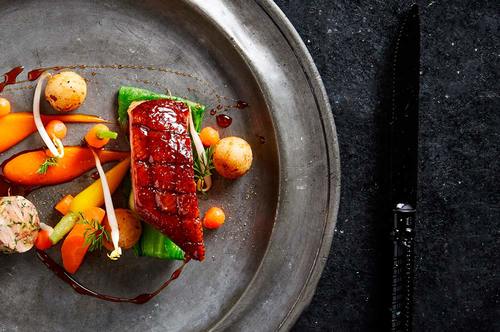 Benguela on Main, situated on Somerset West's Main Road, is celebrating Mother's Day in style on Sunday, 8 May 2016. Executive Chef, Jean Delport, has created a sublime four course lunch menu that has been designed with mom's favourite memories in mind, with an elegant fine dining twist.
The restaurant incorporates a sophisticated approach to fine dining and wine, with items such as roast free range chicken with carrot, maitake and crispy skin for mains and an ice-cream sandwich with mixed berries, vanilla, cremeux and rocket for dessert can be found on this nostalgic menu. Moms will also leave with a special homemade gift from the Benguela on Main team.
Spoil mom this Mother's Day by taking her on a sentimental food journey. Delport has an interesting interpretation of delicious ingredients and creates dishes that have incredible flavour and presentation, with great attention to detail. Since opening its doors in September 2015, Benguela on Main has won patrons over with the creative, fine dining dishes paired with Benguela Cove wines from Benguela Cove Lagoon Wine Estate in Hermanus.
Bookings are essential at R500 per person, Benguela on Main will only be open for lunch on Mother's Day from 12:00 to 15:00. For bookings and more information, call 087 357 0637 or email onmain@benguelacove.co.za.
7 Costly Car Rental Mistakes to Avoid
As Travelers hit the street this late spring, numerous will drive rental cars in different parts of the nation or the world. While rental cars can be helpful, the related expenses are frequently confounding. Here's a gander at car rental oversights that could cost you cash – and how to dodge them.
1. Buying extra insurance you don't need. On the off chance that you have your own accident protection arrangement, it might cover impact harm and individual obligation for transitory utilization of a rental car (yet likely not a moving truck). What's more, on the off chance that you utilize a charge card to book and pay for the rental car, it might give optional impact scope. The charge card scope will kick in for anything your own strategy doesn't cover, and you don't have to pay your deductible. Keep an eye on that before you lease a car, and you might have the capacity to decay that scope at the rental car counter.
Then again, in the event that you don't have your own auto arrangement or you're worried about potential premium increments if you have to record a case with your auto strategy; the car rental organization's protection may bode well.
2. Renting from an airport. Leasing from an air terminal regularly implies airplane terminal additional charges. To maintain a strategic distance from these expenses and potentially sack extra investment funds we recommend picking a car rental administration far from the airplane terminal. Numerous off-airplane terminal rental workplaces give transportation to and from the air terminal. Also, it can be more advantageous than booking at the air terminal and taking a rental car transport and managing enormous group.
3. Not shopping around. Car rental rates can differ contingent upon the organization or the measure of lead time, so it pays to look around as opposed to taking a "one-and-done" methodology.
In case you want to drive long separations, check for mileage tops. Numerous rental organizations offer boundless miles for the car rental period, permitting you to drive the car as much as you need without confronting additional expenses. Be that as it may, others may evaluate additional charges for surpassing a day by day mileage greatest. On the off chance that you lease a vehicle, particularly for a period more than a couple days, ensure you have boundless miles or adequate miles to cover your ventures. At the point when picking between a rental with boundless miles and a less expensive rental with a mileage top, you may beat the competition with the previous.
4. Prepaying for gas. Prepaying for gas may appear to be advantageous who needs to arrange additional time for a pit stop while in transit to an early morning flight?) yet it implies you'll pay for a full tank of gas, regardless of the fact that you come back with the tank half full. It's ideal to top off yourself since you can for the most part find less expensive gas costs at an adjacent station in any case. Be that as it may, bear in mind to top it off in light of the fact that the expense to do as such after drop-off can be an aggregate sham. Make sure to finish off the gas, since some organizations will charge you regardless of the possibility that the gas gage is only a hair far from where it ought to be.
5. Paying additional for GPS or a car seat. Car rental organizations are cheerful to charge you additional for frill like a GPS or tyke car seat. Utilize your cell phone when conceivable, or print headings utilizing your lodging's free business focus. In the event that you have a compact GPS you could gather in your bag and use on your excursion, recall to expel it from the rental car on your arrival. Numerous aircrafts will permit you to check a car seat or utilize it on the plane for nothing, so you don't have to pay additional to utilize one from your rental car organization.
6. Rushing through the inspection. Completely assess your rental car before you head out. Else, you may be charged for harm you didn't bring about. Most rental car armadas are looked after fastidiously, yet harms like scratches or marks in the body or spills, stains or tears in the inside can go unnoticed. In the event that you see any wear, harm or abscond amid the assessment, ensure you instantly make the organization mindful – or you may wind up paying for it. Never accept that a ding is too little to warrant taking note of or that the car organization definitely thinks about harm. On the off chance that it's not recorded on the car condition structure, talk up.
7. Returning a car late. Most car rental organizations charge every day rates in light of 24-hour time frames. While some may give a 29-minute beauty period, you might be charged late expenses – or for a full additional day – on the off chance that you give back the car past that time window. Permit a lot of time on the day you're giving back your car to stay away from this additional charge.
Our cheetahs love to sip water from the fountain.
It is one of those times when we all start planning for the perfect end of the year getaway. The hardest part however is being able to get the ideal place of tranquility and bliss. Nature lovers from all over the world have made South Africa a choice and this is something that makes our country stand out as a favourite tourism destination in the world.
So, why not have some of the fun and share the experiences that are just right under our nose. We could not resist the beautiful story of a child that saw a cheetah and yelled out " Mom! There's a giant cat drinking from our fountain".
Samara or 'Land of Serenity' is a dream that started over 15 years ago by Sarah and Mark Tompkins, with the goal of promoting animal conservation in South Africa and re-introducing indigenous animal populations that have been lost.
Samara Private Game Reserve has been listed as one of the 50 most romantic destinations in the world, and then a couple of years later as one of the 12 most romantic places in the world. The breathtaking beauty, lingering landscapes and incredible mountain ranges are some of the expressional words to describe the Reserve, but perhaps the most romantic description yet might be the statement from the mouth of a child: "Mom! There's a giant cat drinking from our fountain!"
Samara takes wildlife seriously. But they try to make it playful. While indulging in the luxury of your accommodation, you can experience the Great Karoo's wild by simply peering out of reception's window. If you're in any luck, you may just notice a cheetah having a sip of water from the fountain only a few metres from you. Once that initial taste of adventure has been had, enjoying all 70 000 acres of Samara is next at hand. Experiencing the largest private game reserve in the Eastern Cape, a reserve that consists of four different biomes, is a daunting task though. There's a lot to see, and always the biggest sights tend to attract people… but it is the small things that will create lasting memories.
Samara's subtle beauty is best viewed in the mind of a child, because the enchanting experience is about noticing the little things. That's why children of all ages are welcome at the reserve, because they notice the little things… like the tortoise in the garden as you wake up or the aardvark at midnight sniffing around, or even that baby rhino that ran in circles. The magic for a child is in hearing the overhead leaves rustling, to look up and discover the exquisite Ververt Monkeys swinging from branch to branch. Those beautiful bundles of furry joy are not only intriguing to the children, but they have even intrigued Samara's research team. Led by professors from the University of Lethbridge in Canada, extensive research is being carried out on the Vervet Monkey Samara population. See, the team at Samara love to learn, even from children… and that is why the full Samara experience is in noticing the smaller touches.
Samara enjoys catering for children all year round. With their Aardvark Programme for kids and young teenagers (8-14 years) taking off in the June school holidays, it is the ideal spot to holiday in and relax while the young ones have a blast. The rangers and staff make sure that your children are having the time of their lives while you are out experiencing a romantic picnic or hike. When you return, your child will be able to orienteer!There is so much more depth to Samara than the traditional safari experience. They play an essential part in the area's heritage and the community, even encouraging the support of a Graaf-Reniet children's home called Vuyani Safe Haven with "children's environmental days" organised at the Samara Private Reserve. Why does Samara make sure they are child-like? It's probably because "Mom! There's a giant cat drinking from our fountain!" is the likeliest thing that will be heard on your game drive with kids around. Who wouldn't enjoy that?
Samara has a much wider vision of its future. With 70 000 acres at its disposal, Samara has space for everyone and its owners, Sarah and Mark Tompkins, are more than aware of the social, as well as ecological importance of their property.
Made up of 11 farms, Samara forms an essential part of the area's heritage, and as such plays an important role within the local community. Not only are 90% of the staff from Graaff-Reinet and surrounds, but children from previously disadvantaged backgrounds are regularly invited to explore Samara. In association with the Mayor of Graaff-Reinet, educational visits are arranged for local schools, during which time the children experience the magic of the wilderness and learn about South Africa's growing eco-tourism industry.
The beauty of Samara is in the full experience, and the full experience is found in the child-like things.
Pretoria's #RoadIntercessor
On several occasions, whilst in the buzzling and busy traffic of pretoria I spotted a man standing on the lid back of a landRover. The first time it looked like it was a performer but I couldn't fail to notice the individual had a bible in his hand.
So I made a chase date to catch up with him and know exactly what he was up to and why he was up so early to stand at different locations in Pretoria
 Meet Ziggy, the man that has dedicated his mornings to driving around Pretoria and praying for Pretorians and south Africans to be safe and for South Africa to become a stronger nation. He is a man that has devoted his time and resources to the purpose of interceding for our nation.
As Ziggy prays around Pretoria, he gets criticized by man who believe he is an hypocrite, whilst interviewing him, there was a man driving in a public transport that yelled "Fut@k". He says he is OK with critics, and if they believe prayers do not work, they should render other options that will, Prayer is all this nation needs.
" man is deeply wicked in his heart , you do not want to know what i think in my heart"
Ziggy claims he is doing this work of praying for everyone from his own personal capacity and believes no one can pay him for the work he is doing all over, as he says " not even zuma can pay me". He has dedicated 44 years of his life to ministry and he is currently on this campaign of interceding on everyone's behalf. Ziggy has quite an interesting attire (costume) one that draws attention to him. Its hard to miss him, so I asked why he has the kind of attire he had on.
Ziggy says , the hat he wears represents the Indians of South Africa, his own skin represents the umlungu's (in his own word) of South Africa, the shining neck brace the ndebele, the necklace represents the Xhosa, the leopard skin represents the Zulu. Bracelet on his right hand the Shangans, the left hand string represents the Venda, the leg brace represents the Pedis, he also has the beads on his ankle which he says represents the khoisans. He says the attire is prophetic and he wears this attire to intercede on behalf of the multi ethnicity.
He believes someone has to intercede for mankind as man is deeply wicked in his heart , you do not want to know what I think in my heart , he says. So he believes many have left God and opted to honor ancestors and wonder why things go the way they are, so he stays in different corners interceding for mercy.
His last words are that " God has got good plans for South Africa , God wants to bless this nation, God wants to use this nation to help the rest of the continent and to the rest of the world and he is saying come to me have got the words of life.