Kesa Molotsane wins 10km Women's Challenge in PE
Although Kesa Molotsane sped to an impressive maiden victory in the 10km SPAR Women's Challenge, there were winners galore as thousands braved the cool conditions in Port Elizabeth today.
The Bloemfontein-based KPMG runner was delighted with her victory and said she knew that they could not let Nedbank's Irvette van Zyl, who hails from Pretoria, open up too big a gap when she led the pack at the halfway mark.
"Irvette was flying so I felt we had to do something before it was too late," said the new champion, who admitted she nearly miscalculated her pace in the closing stages.
"I thought we were closer to the finish when I went past Irvette at the 8km mark.
"I opened up then but suddenly realised we still had two kilometres to go, not just one, so I almost shot myself in the foot. But I managed to hang on and am pleased with the way it worked out."
She won in 33:13, followed just eight seconds later by Van Zyl. Mapaseka Makhanya from Olifantsfontein in Gauteng was third in 33:40.
Spurred on by local artist Gino Fabbri, thousands of women took to the start of the 10km and 5km events in what is the Eastern Cape's biggest road race.
Among them was South African road running legend Sonja Laxton, who finished a remarkable 91st Women's Challenge.
The 68-year-old from Melrose in Johannesburg showed she has lost none of her competitive edge when she completedt he 10km race in just under 50 minutes.
"Running keeps me out of mischief," she said
"SPAR do a lot for us with these races because they are so well organised.The distances are right, the atmosphere is great and it is almost like a mini national champs – but instead there are six of them."
Her thoughts were echoed by van Zyl, who said road running would be "far worse off" without the retailer's efforts.
"These races are really important for women's running in South Africa and they have made us all better competitors.I can see the times are much faster this year and the runners are much hungrier.
"Kesa is an example of the new blood coming through and there are a lot of juniors on the horizon. It's all thanks to them that this can happen."
As the participants joined in the festivities afterwards, SPAR Eastern Cape marketing director Abri Swart paid tribute to those who supported the event.
"They are the same people who spend time in our retail outlets and therefore it is a wonderful opportunity for us to give something back to the community, repaying them for the support they show us throughout the year."
Swart said the Women's Challenge was in line with their philosophy to provide healthy family lifestyle options.
"It is a chance for some healthy exercise and for some, perhaps, to move out of their comfort zone."
Luvalo Noyise of Sydenham gave credence to his comments.
"Last year I did the race for the first time and I ran more than an hour," said the 37-year-old. "I'm now very excited because today I got that down to 55 minutes."
She said not even the threatening weather could put her off.
"I set my alarm for 5.30 and at exactly that time I heard the rain. But I said that nothing is going to stop me from running so here I am."
Joan Malborough of Mill Park has similar goals for the race each year after competing in her 15thevent.
"It's like a benchmark for me and when I started running years ago, I walked the whole way," said the 62-year-old. "Now I run it every year to see how I am improving."
She said she loved the spirit of the occasion, "seeing so many people, meeting with friends and coming across old acquaintances".
Next year the SPAR Women's Challenge will celebrate its 25th anniversary in PE and Swart said they were aiming to put on a first-class event.
"We will throw in all the bells and whistles, even the kitchen sink," he said. "Once the dust has settled we will sit down and discuss our plans but we want to make it one of the best ever."
Top ten results:
10km
5km
1. Kesa Molotsane 33:13
2. Irvette van Zyl 33:21
3. MapasekaMakhanya 33:40
4. Nolene Conrad 33:46
5. LobogangPhalula 33:59
6. Elizabet Arsedo 34:04
7. GlenroseXaba 34:10
8. Cornelia Joubert 34:13
9. Louisa Leballo 34:35
10. ZintleZiniwe 35:07
1. Megan Dempster 18:58
2. SiphokaziNojoko 19:31
3. Lara de Bloe 19:54
4. LizandreMuler 20:11
5. ThozamaBokile 20:27
6. SibongleXuba 22:08
7. Rutendo Gallant 22:31
8. Wilmien van Biljon 23:16
9. Fazlin Settler 23:23
10. Shene Delport 23:42
Father and daughter go head-to-head in Nissan Winter Classic's World Cup Qualifier
A shared passion for showjumping will see three members of the Triggol family taking to the Durban Shongweni Club showgrounds from 14 to 18 June for the illustrious Nissan Winter Classic, culminating with father and daughter competing for the top position this Father's Day in the Nissan 1.5m FEI World Cup Qualifier class.
Dad, Govett, will be joined by daughter, Cayleigh (18), and son, Thomas (16), to demonstrate their familial horse riding talent at one of the most notable events on the equestrian calendar. This passion for horses, which has filtered through the Triggol lineage, started on a farm in Wonderfontein, 50 kilometres east of Mpumalanga's Middelberg.
"I had the good fortune that my parents both loved horses, so there was always a good supply of farm ponies to ride," recalled Govett. "I started competing when I was eight years old."
Following in their father's footsteps, Cayleigh and Thomas began riding with Tamar Glicksman of Farnam, getting into competitive riding at the ages of seven and eight respectively.
All three have displayed exceptional talent with an impressive list of awards and trophies to their names. Among Govett's accolades are the SA President's Cup 2014, the World Cup Qualifier, Midrand in 2016 as well as Germany's Grand Prix Wildeshausen earlier this year.
Last year, at the age of only 17, Cayleigh – a BComm Management student at the University of Pretoria – was named the South African Young Rider of the Year and placed eighth in the Nissan Winter Classic World Cup Qualifier.
This year alone, Thomas has been named the Junior President's Cup Champion as well as the winner of the SA Junior Outdoor Grand Prix. This bodes well for the young rider, currently studying his O Levels at the British International School, as he hopes to study and ride in the United Kingdom in 2019.
Looking towards the upcoming contest, Govett said the three of them compete in the show annually, describing it as a 'highlight on our showjumping calendar'.
"We are all three coached by Barry Taylor of Farnham Stables and are part of Team Nissan," he explained. "Barry is brilliant at studying the patterns of each course designer and trains us accordingly.
"In no other sport do people of both genders and all ages compete on a par. This makes showjumping very unique. The nature of the sport and the family-orientated Durban Shongweni Club make it a special event for showjumping families."
This isn't the first time Govett and Cayleigh have gone head-to-head and he said it doesn't get any easier.
"I have ridden against Cayleigh in four World Cup Qualifiers and I have yet to have a better result than her, so I definitely go into Sunday's qualifier as the underdog!
"It is absolutely nerve-wracking watching my Cayleigh jump the big classes and I hope I get to go before her on Sunday because it makes it a little easier. I am so proud of Cayleigh in every respect and she is the only competitor I don't mind losing to."
Cayleigh said the respect was mutual, stating: "I love riding with my dad and I don't really see it as a rivalry but rather as a team effort to try to win."
This Kyalami family will have support from mom, Colleen, who will be shouting for all three from the sidelines throughout the four-day show.
Despite the nerves, Govett said he wouldn't want to celebrate Father's Day any other way. "Spending Father's Day with my two very special children, doing something we love together, makes me the most blessed dad in the world on Sunday!"
In addition to the thrilling showjumping action, visitors can take advantage of a number of outside activities, including the ever-popular Nissan vehicle display and test drive; a dedicated kids' zone play area; Prussian army display; dog agility show; a variety of market stalls as well as gymnastic and trapeze displays.
For more information about the Nissan Winter Classic, check Nissan Winter Classic 2017 and SA Showjumping on Facebook, visit www.foresyte.co.za, or contact Grant Langley on 082 859 2160. The Nissan Winter Classic 2017 is sponsored by Nissan, Epol, Liberty, Equipage, CWD, Western Shoppe.
Entries now open for Stokvel Cooking Challenge 2017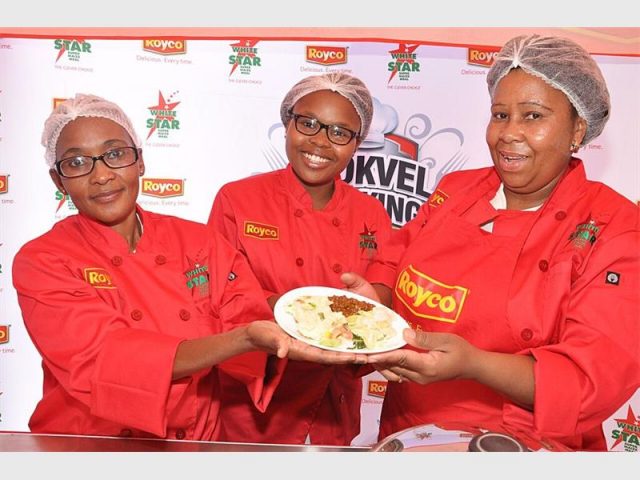 What is a stokvel meeting without members coming together to share a delicious meal? Whether it is served with a creamy chicken curry, tasty pickled fish or any sishebo of their choosing, a well-cooked maize meal is the perfect dish for any social occasion. White Star Super Maize Meal, South Africa's favourite maize meal brand, in partnership with Royco® and Move! Magazine, are once again offering stokvels across South Africa an opportunity to show off their cooking skills in the Stokvel Cooking Challenge 2017. Now in its fourth year, the competition gives stokvel groups a chance of winning their share of R40 000 in prize money.
"Coming together and sharing a delicious meal is exactly what a stokvel all is about. For this reason, White Star and Royco®-, are excited to see the creative and traditional South African dishes that will be prepared for the Stokvel Cooking Challenge 2017. We call upon all stokvel groups to show off their culinary skills by entering before May 21st, 2017," says White Star Marketing Manager, Mokhele Makhothi.
If your stokvel has a flair for cooking all you need to do is Whatsapp to 071 470 4329 your Stokvel name, region and tell us why your stokvel deserve to take part in the Stokvel Cooking Challenge 2017. Three stokvel groups in each participating region will then be invited to compete in one of the following semi-final workshops: • East London: 6 May 2017 • Nelspruit: 1 July 2017 • Gauteng: 5 August 2017 • KwaZulu-Natal:24 June 2017.
The winning stokvels of the regional semi-finals will travel to Pretoria for the finals on 26th August 2017, where they will prepare their very best dishes to be tasted and judged by celebrities; namely actress and White Star chef, Mapaseka Koetle, and Royco®-mama, Siphokazi Mdlankomo. "When it comes to the winning dish, I am hoping it will remind me of my mom cooking a traditional meal that tastes like home. This for me would definitely include White Star Super Maize Meal with a Royco® inspired sishebo," says Koetle.
"No one brings the community together better than stokvel moms and their delicious food, and they will always be the first to tell you that a meal is not complete if there is no flavour or gravy to accompany their creations!  Royco® guarantees delicious meals every time, so it seems only right that we partner with White Star Super Maize Meal and Move! Magazine to give stokvel members a competitive advantage," says Royco® senior brand manager, Khosi Snondo.
If you and your stokvel are known for your amazing skills in the kitchen get cooking and make sure you enter the Stokvel Cooking Challenge 2017 before May, 21st by sending your photo and description to 071 470 4329.
International act to perform at Miss Soweto 2016
The highly anticipated 38th annual Miss Soweto 2016 pageant, brought to you by White Star Super Maize Meal, will host platinum-selling American songstress, Monique Bingham on Saturday, 3 December 2016.  This event is set to be a night of elegance and unprecedented beauty where 20 finalists will compete for the prestigious title.
Monique is known for her superb vocal skills and exemplary song-writing flair.  She has collaborated with award-winning, Ralf Gum "Take Me to My Love" and Black Coffee for popular house track, "Deep in the Bottom" which cemented her standing as part of the South African music industry.
Having undergone an intense period of coaching, rehearsals and public appearances since they were announced in October, the finalists will face actresses, Mapaseka Koetle – Nyokong, Thandy Matlaila and beauty editor Grace Mantjiu, the event will be hosted by Thato Molamu and Refiloe Motsei.
Date: Saturday, 3 December 2016
Time: 19h00
Venue: The Soweto Theatre
Tickets: R200
The show promises to be a spectacular event and tickets are currently on sale at the Soweto Theatre and will be available at the door.