Makeup with care, it has some repacautions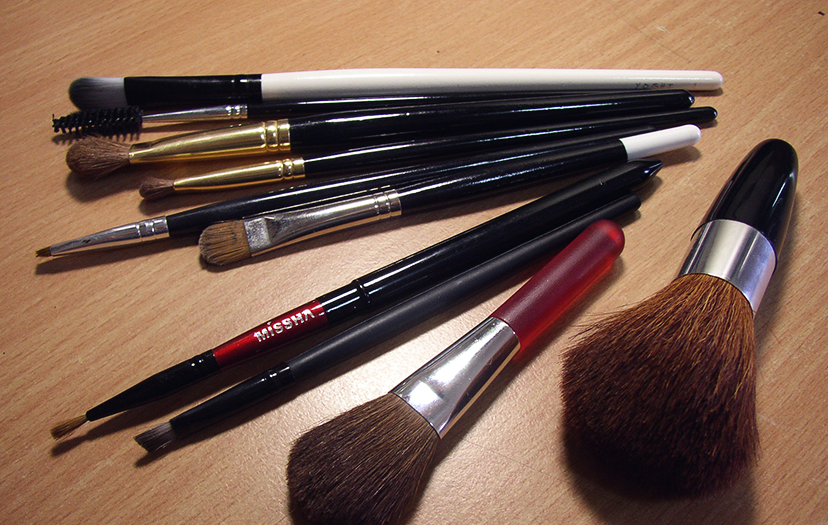 When you go through your morning makeup routine, your goal is obviously to improve your appearance. But how is that seemingly harmless, perfectly applied layer of powder really affecting your skin? Most of the time, makeup doesn't have any major negative effects — other than maybe the early-morning frustration of applying it. However, it could cause a few skin reactions. Most of these reactions aren't severe or long-lasting, but you might want to know how your makeup is affecting your skin.
Some people experience allergic reactions to common cosmetic-product ingredients. These reactions can come in two types: irritant contact dermatitis, which is an itching or burning reaction to a product irritating the skin, and allergic contact dermatitis, which is more of a "true" allergy to specific ingredients that results in swelling, itching, or blisters [source: American Academy of Dermatology]. Both of these types of reactions are most commonly caused by things like fragrances or preservatives in makeup and other skin care products.
Makeup can also cause acne. You'll usually be fine if you're diligent about removing your makeup at the end of the day and immediately after exercise. However, certain oils in many cosmetics can cause or worsen acne. This type of acne, appropriately called acne cosmetica, is mild, common and characterized by blocked pores and reddened bumps on the chin, cheeks and forehead. Acne cosmetica occurs when oils from your makeup collect in and clog your pores, so thick liquid or cream products are more often culprits than are lighter products like powders.
To help avoid these reactions, look for makeup products that are fragrance- and oil-free — these ingredients are typically the most irritating to the skin. Also, look for products that are labeled hypoallergenic (they're less likely to cause allergic reactions), noncomedogenic (they won't block pores) and nonacnegenic(they won't cause acne), although none of those terms are necessarily regulated by the U.S. Food and Drug Administration. If you find that you develop any kind of reaction after you begin using a new makeup product, it's probably a good idea to stop using that particular product. But with a good skin care routine and quality makeup products, you can help prevent negative reactions.
---
One of South Africa's experts on Rooibos, Dr Jeanine Marnewick from the Cape Peninsula University of Technology, is leading the field in research into the health benefits. She has looked into the effect of the high levels of antioxidants and polyphenols in Rooibos on a condition called "oxidative stress" in the cells of the body. Oxidative stress is essentially an imbalance between the production of free radicals – an unstable molecule of oxygen – and the ability of the body to use antioxidants to counteract or detoxify their harmful effects. The more free radicals that are active, the greater the likelihood of developing diseases, such as heart disease, inflammation, chronic fatigue and cancers.
Rooibos, particularly the green extract used in African Extracts skin care, is extremely high in antioxidants. Dr Marnewick's research led to a finding that drinking six cups of rooibos tea a day would help reduce heart disease, while other recent findings in Spain show that antioxidants in rooibos help prevent the storing of fat cells in and around the liver and other organs.
While very few human trials have been done on the effects of rooibos extract on the skin, research findings at Stellenbosch University have shown that green rooibos extract plays a role in preventing the development of skin cancer and delays the onset of malignant tumours. Dr Tandeka Magcwebeba, who conducted the study as part of her doctorate in Biochemistry, found that rooibos extracts help stop the multiplication of cancerous cells and cause them to become inactive.
Dr Marnewick, speaking at the launch on African Extracts Advantage range, says there's no reason why the benefits of drinking Rooibos tea should not extend to use on the skin. She recommends this remedy for sunburned skin: Run a lukewarm bath and throw in a handful of Rooibos teabags. Wait several minutes for the Rooibos to infuse the water and relax while this South African treasure works its magic.
Johannesburg's coolest Barber Shop
Bonafide Barbers, located at 66 6th Street in Parkhurst, Johannesburg recently underwent a few changes at their new shop in Parkhurst to accommodate customers a little better.
"We really needed a reception area from where we could welcome our clients as they arrived" said owner Monique Fleming. "Our shop is getting steadily busier which created the need for another skilled barber and more work stations."
The barber shop now offers three functioning barber areas (with room for a fourth) to serve customers and can accommodate haircuts, shaves and beard trims of any ethnicity.
To have a look at their upgraded facilities, check out the video :
Bonafide Barbers opened in January of 2016 next to Urban Grind Roasters. They have two barbers on hand; Morgs Price (The Sinister Barber) and Bernadette Kruger (Barber Bern), along with their newest recruit and trainee, Linwill Adams (LL). The barber shop specialises in men's haircuts, hot towel shaves, beard trims, ladies cuts, beard grooming and even hair graffiti. Complimentary coffee from Urban Grind is offered to each and every customer.
They also stocks the full range of award winning Bonafide Beard grooming products including beard oil, beard balm, cleansing bars and beard brushes along with various other hair care products by EVO.
The shop is open to all and anyone willing to visit can book appointment on Bonafide Barbers website or using their app ". The app makes bookings super convenient for you. Although appointments are highly recommended, walk-ins are also accommodated where possible.
5 Bridal Hair Tips You Can't Walk Down the Aisle Before Knowing
Congratulations on your big and extremely special day wife-to-be. The stress and excitement of planning your wedding should be the best experience of your life and you deserve every minute of it. From venue booking and decor arrangements to picking bridesmaids and choosing a cake, the adrenaline keeps intensifying. The last thing you need to stress about is the state of your hair too. So, here's a quick guide to ensure while you take care of the necessary wedding preparations that your precious tresses are well maintained and beautiful on your big day.
It is important to take excellent care of your hair before your trial and wedding day. This will ensure that your hair is shiny and healthy before having to endure numerous salon services like chemical or thermal styling which might compromise the health of your hair. Hairhouse Warehouse's OSMO range is a good place to start searching for salon professional at-home treatments to try out.
Give yourself enough time to plan your best wedding hairstyle. This means a few months before your wedding. Book your hair services in advance especially if you are getting married in peak wedding season. Stylists might be fully booked if you wait until too late to get a booking. This will also be the perfect time for you to start collecting photographs of your wedding hairstyle too.
About four to six weeks before your wedding, book your hair trim. Avoid going for a dramatic change right before your big day. The last thing you need is the disappointment of not being able to go for the hairstyle of your choice. Remember, if you professionally straighten or curl your hair to do it at least a month before your wedding. This will give it ample time to relax and be wedding day hairstyle ready.
If you thinking when's the right time to touch-up on your colour and cover that grey hair, if you have any, it is at least two weeks before you walk down the aisle. On your trial and wedding day ensure you have clean and dry hair with no product build-up. Avoid using leave-in conditioner especially on that morning. You would also like to stay away from any product that might weigh your hair down.
Make sure you have allocated plenty of time for your stylist to work his or her magic on your wedding day, especially if you have long hair. You might take this lightly, but remember to wear a button front shirt or dress before going for your final wedding hairstyle. You'll thank yourself for not risking any damage to your best hairdo, ever!