MTV AFRICA MUSIC AWARDS RETURNS TO DURBAN, KWAZULU-NATAL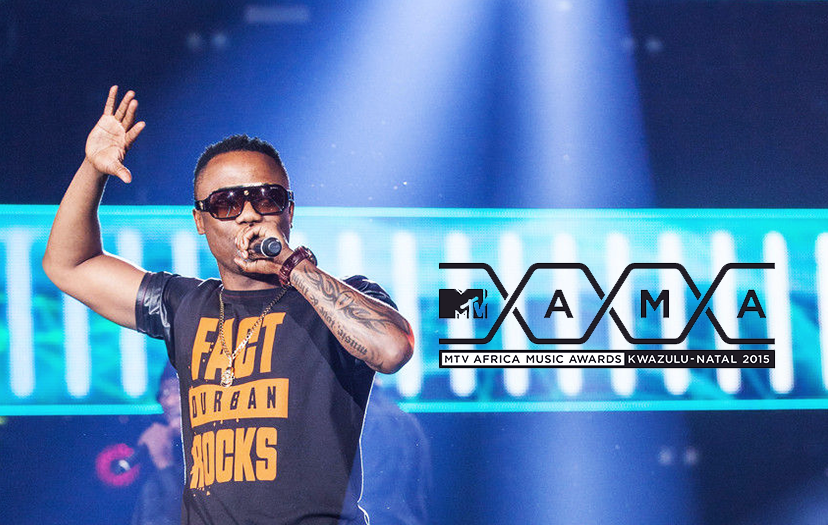 A decade after bursting onto the world stage, Viacom International Media Networks(VIMN) Africa and MTV Base (DStv Channel 322) are once again shining a global spotlight on African music,creativity and achievement at the fifth edition of the MTV Africa Music Awards (MAMA).
The MTV Africa Music Awards KwaZulu-Natal 2015, returns to the Durban International Convention Centre (ICC), KwaZulu-Natal, South Africa on Saturday 18 July 2015.
The definitive annual celebration of African talent, MAMA 2015 takes "evolution" as its theme, recognising and rewarding musicians and achievers who have made the most impact on African youth culture over the last 12 months, while also celebrating the development of the continent's talent and creativity over the last 10 years.
The ceremony will feature stunning performances from African and international artists along with unique collaborations.
MAMA 2015 will celebrate African talent across 17 award categories such as Best Male, Best Female, Best Song and Best New Act Transformed by Absolut. The contribution of artists from Portuguese and French speaking Africa will also be recognised in the Best Lusophone and Best Francophone categories.
In line with the MAMA 2015 "evolution" theme and VIMN Africa's 10-year celebration, this year's show will also In line with the MAMA 2015 "evolution" theme and VIMN Africa's 10-year celebration, this year's show will also feature a special edition Artist of the Decade category to recognise artists whose careers have flourished throughout the last 10 years.
Additional categories include the MAMA Leadership Award and Personality of the Year. The nominations for the awards will be revealed on 11 June 2015.
Alex Okosi, Senior Vice President & Managing Director, Viacom International Media Networks (VIMN) Africa, Desmond Golding, Head of Department of Economic Development, Tourism, and Environmental Affairs, KwaZulu-Natal Province, Melanie Campbell, Pernod Ricard Portfolio Marketing Manager and Tim Horwood, Channel Director, MTV Base revealed the news today at The Southern Sun Elangeni & Maharani Hotel, Durban in the presence of AKA, Bucie, Big Nuz, Cassper Nyovest, Dream Team, DJ Tira and Patoranking.
Commented Alex Okosi, Senior Vice President & Managing Director, Viacom International Media Networks Africa, "We are thrilled that the MTV Africa Music Awards will be returning to Durban and KwaZulu-Natal on 18 July, a date famous for being the birthday of Nelson Mandela – what better day could there be for staging this inspirational celebration of African achievement and creativity that showcases Africa's best talent on the world stage."
Desmond Golding, Head of Department of Economic Development, Tourism, and Environmental Affairs, KwaZulu-Natal Province, commented, "In 2014, the world saw how Durban and KwaZulu-Natal leveraged global events such as the MTV Africa Music Awards to realise our tourism goals. After the major success of the MAMA in Durban last year, we are delighted to welcome back MTV Base and the MAMA awards to KwaZulu-Natal this July. By attracting ground-breaking events like the MAMA to KwaZuluNatal and Durban, we continue to make a significant contribution to economic growth and tourism in the region."
Head of Durban Tourism, Phillip Sithole, commented, "It is a tremendous honour for The City of Durban to be host city once again for the much anticipated MTV Africa Music Awards. The MAMA is a celebration of Africa's award winning musical achievements and we are privileged to have this prestigious gathering in The City of Durban. We look forward to an unforgettable event in Durban and may the MAMA continue to be the best platform to bring Africa together on our shores and allow our continent to enjoy the unique flavours of Destination Durban."
"We are once again proud to be part of a pan-African music celebration such as the MAMA," says Marketing Director of Pernod Ricard SA, Charl Bassil, "The partnership with Viacom International Media Networks Africa allows us to once again affirm our category thought leadership whilst utilizing the MAMA platform with our "Africa is Absolut" campaign, to be catalytic in helping transform artists lives by driving support for the nominees of the Best New Act Transformed By Absolut and showcasing their talent to all of sub-Saharan Africa."
Celebrating the pan-African scope of the MAMA, the awards will encompass three stunning surround events featuring MAMA nominees and superstar DJs to be held in Durban (27 June), Lagos (3 July) & Kenya (1 EMBARGOED FOR PUBLICATION UNTIL 13:00 CET/14:00 WAT/15:00 CAT, THURSDAY 21 MAY 2015 August). Another key element of MAMA 2015 will be a workshop for aspiring musicians in the week prior to the awards.
First staged in 2008, the MTV Africa Music Awards has recognised the talent of musicians, achievers and personalities from across Africa, rewarding iconic artists and gamechangers such as 2Face Idibia, Big Nuz, Davido, D'Banj, Flavour, Gangs of Ballet, HHP, Fally Ipupa, Liquideep, Mafikizolo, Lira, Nameless, Lupita Nyong'o, Clarence Peters, Diamond Platnumz, Anselmo Ralph, Sarkodie, P-Square, Tiwa Savage, Cabo Snoop, Toofan, Zebra & Giraffe, Uhuru, Wahu, and many more.
Dj Tira Massacres Red Bull Culture Clash 2017
The energy at Orlando Stadium was electrifying on the evening of 23 September 2017 as four epic Sound Systems battled it out for theRed Bull Culture Clash South Africa 2017 crown.
Over four intensely competitive rounds, AKA fronting Top Boyz Sound System, battled it out against DJ Tira's Durban Massacre Sound System, Patoranking and Red Hot Sound System and Admiral & Jahseed with African Storm – each repping their respective genres – hip hop, house, afro-beats and reggae. In the end, it was DJ Tira and Durban Massacre Sound System that won over the crowd and took the coveted title.
Hosts Siyabonga 'Scoop Makhathini' Ngwekazi and Thapelo Mokoena's on-stage chemistry kept the energy high between rounds as each one brought with it even more entertainment for the fans.
The four sound systems, each comprised of a heavyweight line-up of artists, delivered one-of-a-kind performances at the world's most innovative live music experience – Red Bull Culture Clash. To add to the suspense, each crew threw out exciting custom dubplate specials* with highlights including Jub Jub (as part of Top Boyz) remixing famous gospel song, Ndikhokhele Bawo, earning them an overwhelming response from the crowd.
The crews battled it out to the very end and kept true to their original fan promise to bring 'everything they had on the night'. Surprise acts are a big part of the excitement of Red Bull Culture Clash, and fans never know what to expect. International reggae star, Beenie Man's appearance, which was part of African Storm and Red Hot's surprise guest, Zola, got the crowd going, but adding the strong throwback from Mdu Masilela to the mix helped seal the deal for Durban Massacre.
Overwhelmed by his win, DJ Tira was proud to hoist the winner's title belt: "Winning this title means a lot to me because it shows people that Gqom and Durban house is here to stay, and will dominate and shape future sounds. That's all we ever wanted to do – stay true to ourselves and where we come from. We gave people what they wanted and they responded to the genuine, heartfelt music we shared. That's what it's all about and we are proud to solidify our sound further. Thanks to the music lovers and supporters, it wouldn't be possible without them."
The Culture Clash concept was introduced in the UK in 2010, by the Red Bull Music Academy. It is Red Bull's longest-standing music programme and has since made its way around the world, to cities such as New York, Lisbon and Paris. Red Bull Culture Clash is based on the classic Jamaican sound system culture.  It's defined by the use of cutting-edge lyrics, fierce competition and ridiculously loud sound systems.
Red Bull Culture Clash event crew line-up announced
Red Bull Music Academy is a world-travelling series of music workshops and festivals. Two groups of 30 selected participants—producers, vocalists, DJs, and instrumentalists from around the world—come together in a new city each year for two weeks of collaborations, lectures, and performances.
The Academy began in 1998, and has been traversing the globe since. In 2010 it took place in London, when the first Culture Clash was hosted as part of a five week-long city festival.
Preparations for Red Bull Culture Clash are heating up at a rapid pace as headline artists AKA, DJ Tira, Patoranking and Admiral & Jahseed, enlist some of the industry's top musicians to back their respective crews for an epic show that is being labelled the biggest live music battle experience the continent has ever seen.
Check out the downright impressive Red Bull Culture Clash crew list below.
---
AFRICAN STORM SOUND SYSTEM featuring:
ADMIRAL & JAHSEED
DANCE HALL QUEENS
TOL A$$ MO
OSKIDO
SPEEDY
SECRET GUESTS 
RED HOT SOUND SYSTEM featuring:
PATORANKING
GEMINI MAJOR
DJ SNYPES
MAJOR LEAGUE DJZ
JUPITAR
SECRET GUESTS
DURBAN MASSACRE SOUND SYSTEM featuring:
DJ TIRA
NAAK MUSIQ
DISTRUCTION BOYZ
L'VOVO
PROFESSOR
DUNCAN
BIG NUZ
KILLER KAU
SECRET GUESTS
TOP BOYZ SOUND SYSTEM featuring:
AKA
ANATII
JR
MASTER A FLAT
YANGA CHIEF
DJ FANATIC
TWINS ON DECKS
SECRET GUESTS
---
The list of talent to expect on the night doesn't stop here. Crews will be introducing additional surprise artists during the event as part of their arsenal of musical weaponry they bring to the battle.
In the lead up to the event, AKA notes "None of the teams have what it takes to beat our Top Boyz Sound System. We're making sure we have all the right elements – world class talent, infectious energy and impressive sound and lighting – to bring fans a one-of-a-kind performance. The crowd and competition won't know what hit them! Get ready SA, we're coming for you."
Be prepared for a night of larger-than-life sounds and surprises and show support for your 'chosen crew', as it's the response from the crowd that decides the winner on the night.
Follow Red Bull Culture Clash on redbull.co.za; Twitter @RedBullZA, Facebook @redbull, Instagram @redbullza  and YouTube. Join the conversation using #RedBullCultureClash.
Don't miss out on the action! Get your tickets for Red Bull Culture Clash 2017 from Computicket. Doors open from 6pm on 23 September at Orlando Stadium.
Grit is Gold at Africa Property Investment Summit
SANDTON, JOHANNESBURG – JSE-and Mauritius-listed company, GRIT Real Estate Income Group, will be attending the noteworthy platform for real estate investment in Africa this week at the Sandton Convention Centre to discuss current trends, share industry experiences, and hopefully emerge having made positive connections in the various African countries.
As a top tier Gold Sponsor to the Africa Property Investment Summit & Expo (API), GRIT will be connecting with the most influential local and international Africa property stakeholders, in the promise to seek meaningful and profitable investment into a range of real estate, infrastructure projects and developments across the continent.
The API Summit gathers the region's most senior investors, developers, operators and professionals providing the right platform to do deals across the region.
It is in this precise vein that Grit is Gold. It pioneered the concept of providing investors direct access to real estate ownership in Africa's high-growth markets (excluding South Africa).
This is a dynamic, high-growth company that has established a strong portfolio of retail, corporate residential, hospitality, warehousing and commercial office assets in Kenya, Morocco, Mozambique, Mauritius and Zambia, with a view to expand into more markets, especially where REIT (Real Estate Investment Trust) legislation has been promulgated.
Grit distributes its income to shareholders in US dollars, making it a currency hedge in addition to participating in superior distribution growth. The Company recently distributed its sixth consecutive distribution to shareholders and targets a dividend yield of over 7% in US dollars.
Grit CEO, Bronwyn Corbett has two days of bespoke networking opportunities, focussing on Morocco, Nigeria, Ghana, Kenya, Rwanda, Tanzania, discussing the impact that structured real estate investments can have on development of the continent.
Given the strong correlation between the investment case of REITs on the one hand and the investment mandate of pension funds on the other, REIT legislation has been a significant catalyst in the growth of listed real estate investments in those markets.
Although Grit distributes its income in the same way as a REIT does, it is not a REIT and pays the relevant taxes in-country.
For South African investors, this means they are charged a lower foreign dividend tax on their earnings, as opposed to a higher income tax compared to distributions from South African listed REITs.
Says Grit CEO, Bronwyn Corbett, "We offer investors exposure to hard currency income at emerging market growth rates, making us a unique addition to any investment portfolio.
Our risk is mitigated by the quality of our tenants, including the likes of Vodacom, Barclays, Beachcomber and Lux Resorts as well as the long-term hard currency leases we have entered into.
Going forward, we are targeting growth in our current countries of operation as well as in new jurisdictions including Botswana, Rwanda and Ghana."