MTV MAMAs 2016 – Full Winners List Revealed!
It was a night of great performances and a celebration of music at the 2016 MTV Africa Music Awards held at Ticketpro Dome on Saturday (October 22) in Johannesburg.
Wizkid won the award for Artist of the Year, Best Male Artist and Best Collaboration.
Winners are listed in RED. The big list includes some of the categories nominees.
The MTV MAMA Awards 2016 winners are…
ARTIST OF THE YEAR
Black Coffee (South Africa)
Diamond (Tanzania)
Sauti Sol (Kenya)
Wizkid (Nigeria)

Yemi Alade (Nigeria)
BEST LIVE ACT
Flavour (Nigeria)
Stonebwoy (Ghana)
Cassper Nyovest (South Africa)

Eddy Kenzo (Uganda)
Mafikizolo (South Africa)
BEST HIP HOP
Olamide (Nigeria)
Kiff No Beat (Ivory Coast)
Ycee (Nigeria)
Emtee (South Africa)

Ricky Rick (South Africa)
BEST NEW ACT
Babes Wodumo (South Africa)
Emtee (South Africa)
Falz (Nigeria)
Franko (Cameroon)
Nasty C (South Africa)
Nathi (South Africa)
Raymond (Tanzania)
Simi (Nigeria)
Tekno (Nigeria)

SONG OF THE YEAR
"Shaktibobo" – Olamide (Nigeria)
"Reggae Blues" – Harrysongz feat Olamide, Kcee & Iyanya, Orezi (Nigeria)
"My Woman, My Everything" – Patoranking feat. Wande Coal (Nigeria)

"Godwin" – Korede Bello (Nigeria)
"Ngud" – Kwesta feat. Cassper (South Africa)
"Roll Up Re-Up" – Emtee feat. Wizkid and AKA (South Africa/Nigeria)
"Soweto Baby" – DJ Maphorisa feat. Wizkid (South Africa/Nigeria)
"Baddest" – AKA feat. Burna Boy, Khuli Chana, Yanga (South Africa/Nigeria)
"Wololo" – Babes Wodumo feat. Mampintsha (South Africa)
"Coller la Petite" – Franko (Cameroon)
"Unconditionally bae" – Sauti Sol feat. Alikiba (Kenya/Tanzania)
LISTENER'S CHOICE
Adiouza (Senegal)
Bebe Cool (Uganda)
Burna Boy (Nigeria)
Den G (Liberia)
EL (Ghana)
Jah Prayzah (Zimbabwe)

Jay Rox (Zambia)
Kansoul (Kenya)
Kiss Daniel (Nigeria)
Lij Michael (Ethiopia)
LXG (Sierra Leone)
Meddy (Rwanda)
Messias Marioca (Mozambique)
Prince Kaybee (South Africa)
Reda Taliani (Algeria)
Saad Lamjarred (Morocco)
Sabri Mosbah (Tunisia)
Sidiki Diabate (Mali)
Tamer Hosny (Egypt)
The Dogg (Namibia)
Yamoto Band (Tanzania)
BEST INTERNATIONAL ACT
Drake

Beyonce
Adele
Future
Rihanna
BEST MALE
Wizkid (Nigeria)

AKA (South Africa)
Patoranking (Nigeria)
Black Coffee (South Africa)
Diamond Platnumz (Tanzania)
BEST COLLABORATION
Patoranking ft. Sarkodie – No Kissing
Sauti Sol ft. Alikiba – Unconditionally Bae
AkA ft. Burna Boy,Khuli Chana & Yanga – Baddest
Dj Maphorsia ft. Wizkid & Dj Buckz – Soweto Baby

Nasty c ft. Davido & Cassper Nyovest – Juice Back Remix
LEGEND AWARD
Hugh Masekela

VIDEO OF THE YEAR
"Jump" – Anatii & Cassper feat. Nasty C (South Africa); Director: Kyle Lewis
"Caviar Dreams" – AL Bairre & PhFAT (South Africa); Director: Daniel Levi
"If I Start to Talk" – Tiwa Savage feat. Dr Sid (South Africa); Director: Clarence Peters
"Kisasi Kumi" – Sheeba (Uganda) – Director: Sasha Vybz
"Niquer Ma Vie" – Youssoupha (Congo) – Director: Antony Abdelli & Jose Eon

BEST GROUP
R2Bees (Ghana)
Sauti Sol (Kenya)

Toofan (Togo)
Navy Kenzo (Tanzania)
Mi Casa (South Africa)
BEST POP & ALTERNATIVE
Tresor
TiMO ODV.
LCNVL
Desmond & The Tutus
kyle deutsch & shekhinah

BEST FEMALE
Josey (Ivory Coast)
MzVee (Ghana)
Tiwa Savage (Nigeria)
Vanessa Mdee (Tanzania)
Yemi Alade (Nigeria)

BEST FRANCOPHONE
Franko (Cameroon)
J-Rio (Gabon)
Magasco (Cameroon)
Serge Beynaud (Ivory Coast)

Toofan (Togo)
BEST LUSOPHONE
NGA
Nelson Freitas
C4 Pedro

Lizha James
Petro Show
Locally brewed musician Amy Tjasink, launches new electro pop inspired EP
Cape Town – Following the success of her first EP released in August 2016, 'Average Jane', 24 year old singer and songwriter, Amy Tjasink has launched an all-new 5 track EP titled 'In the Dark'. This EP sees a different side of Tjasink as she unveils electronic/urban pop tracks that have been written by her and produced by Colin Sher from Cosher Recording Studios.
"The inspiration behind 'In the Dark' is about stepping into a new journey, a new transformation my music has taken but a journey that is also unknown," explains Tjasink. "It plays on two themes – the uncertainties that life brings, wanting to run away into the future but not knowing what it holds and then a strong collective summer romance theme where it interprets a story of a summer fling."
Tjasink's powerful vocals lends itself naturally to folk-country and pop style music, however, the new EP presents a sophisticated electric feel which hasn't yet been heard by her followers. Tjasink has been working on the EP since April 2016 and is now ready to showcase it. The EP is the cornerstone of her next adventure which is the release of her complete album, to launch in May 2017.
"Releasing this EP came as a surprise to me, as it wasn't a genre of music I saw myself tapping into but after working with my producer Colin Sher, for a year or so now, we embraced it together and discovered a new sound," says Tjasink. "It was important to me to try new things and to release it to the world allowing them to see my alter ego self, the part of me that loves pop music. I also got the opportunity to work with another songwriter, Anste who now goes by the name Sadisaac. She wrote the title track 'In the Dark' and we will be working together on future projects."
The following tracks can be found on the EP, In the Dark:
1. Now – By Amy Tjasink & Cosher
2. Not Mine – By Amy Tjasink
3. In the Dark –By Amy Tjasink, Antse & Cosher
4. Runaway – By Amy Tjasink & Cosher
5. Don't Need – Amy Tjasink
To view and listen to one of her new tracks titled 'Now', please visit YouTube – https://www.youtube.com/watch?v=1g6mz_Ix854&t=13s
To listen to a few tracks on SoundCloud, please visit – https://soundcloud.com/amytjasinkmusic
To Purchase Amy Tjasink's new EP 'In the Dark, please visit iTunes – https://itunes.apple.com/us/album/in-the-dark-ep/id1193672510?app=itunes&ign-mpt=uo=4
For more information on Amy Tjasink, visit http://www.amytjasink.com/.
The impact of local content
With the SABC introducing the local content quota in May, it's been a hot topic across the media in South Africa. Focal Points* conducted an analysis on the media surrounding the announcement, as well as the potential impact the quota could have.
As a result of globalisation, international influences have become more evident in all aspects of life. Specifically in local music industries, a growing trend exists in the disenfranchisement of musicians and artists. Subsequently, government entities enforce local content quotas to increase the consumption of local music (Maqina, 2013:iv). The South African Broadcasting Corporation (SABC) spokesperson, Kaizer Kganyago, commented that "the SABC is the custodian of our culture and heritage1." It can therefore be said that government organisations play an essential role in ensuring that the demand for national music is not lost.
Why enforce a local content quota?
Local content quotas emerged in the late 1980s and 1990s as a result of international influences filtering into numerous countries due to globalisation (Chari, 2013:6). Many countries were, and still are, threatened by the power of international cultures impacting the deterioration of local culture. Consequently, the implementation of local content quotas are, to date, experienced worldwide (Richardson, 2006:605). Local content quotas contribute towards creating a sense of national identity and cultural diversity (ICASA, 2014:32). Music, as a cultural product, assists in developing these identities to become more tangible to consumers, consequently providing a platform for the local music industry to grow through the promotion of local talent (Chari, 2013: 6). The Independent Communications Authority of South Africa (ICASA) articulates the role of broadcasters in local content quotas, stating that "radio and television can make a vital contribution to democracy, nation building and development in South Africa "(ICASA, 2014:5).
Kalawa Jazmee, co-founder of a South African record label, claims that thousands of jobs have been lost in the South African music industry due to local musicians not gaining airplay on national radio stations2. Economic factors play a key role in local content quotas, most notably through the potential growth of the local music industry (Fourie, Mentz, Lloyd & Martini, 2014: 2). As broadcasters comply with the quotas, an opportunity is created for musicians to profit. It is explained that the more a song is played, the more royalties an artist receives and the higher the chances of public interest become (Knab, 2010:1). In addition to artist exposure, local content quotas promote local entrepreneurs and record labels, which in turn create and sustain local jobs3.
Possible impact of local content quotas
Accompanying globalisation is the increased use of mobile technology, television and the internet, ensuring a gradual yet prominent infiltration of international influences. Local content quotas do not exempt local musicians from including elements of international music, nor do they guarantee that local music will preserve national identity or accurately reflect it (Bere, 2008:277; Chari, 2013:30). Subsequently, the opposite desired result could be achieved as the quotas could lead to increased 'internationalisation' of local music (Richardson & Wilkie, 2014:2). After the implementation of a 75% music content quota in Zimbabwe, it was found that younger musicians became increasingly culturally ambivalent, as their musical style was neither local nor global (Chari, 2013: 31).
As radio is one of the most accessible forms of media in South Africa, implementing a local music quota will be "far-reaching and have long run consequences4." However, it is essential to measure whether quotas are receiving the desired result. A study, conducted in 2014 on content regulations in South Africa, proved that content regulations have contributed to the promotion of local music and that a demand for local music does exist (Fourie, et al., 2014: 3-4).
One problem lies in providing quality local music in order to retain a captive audience, as "value for money supersedes poor quality patriotism5." Besides quality, diversity becomes an issue as certain genres do not have as much recorded music as others, leaving broadcasters with limited availability of music to play (National Association of Broadcasters 2001: 9). Due to local music quotas limiting quality and diversity, losing listenership is expected6.
Consequently, broadcasters may have trouble gaining advertising revenue, as advertisers typically support platforms where they can access the largest possible audience (Richardson 2006: 606).
An issue regarding the supply of quality local music becomes prevalent with the implementation of local music quotas. This creates challenges, but also opportunities for the local music industry to produce higher volumes of quality local music in order to address the increased demand (ICASA, 2014:36). The South African local music industry, although abundant with talent, lacks funding opportunities for artists to grow. "If the SABC is serious about having 90% local content, [they] need to provide resources for the artists. Recording a single track and booking a studio can set an artist back almost R50 0006. Therefore, supply-side initiatives should be put in place by government organisations to create a platform accommodating local artists, meeting the demand at an acceptable quality (Fourie, et al., 2014: 2).
Concluding remarks
International music has been dominating the airwaves for decades, distracting the public from supporting the local music industry, thereby restricting its growth. Furthermore, it is evident that local cultural expression may be compromised by foreign influences. Local quotas can therefore be regarded as a means to safeguard national traditions and promote local talent (Bernier, 2004:3). There will invariably be a period of adjustment, as South Africa has not yet experienced local content quotas to this extent. However, local musicians call on the country to embrace and support the SABC's decision3. It has been found that local music quotas benefit the country by defending cultural and economic activity; improving public knowledge of local music; promoting diversity; and improving the local recording industry (Maqina, 2013:9-17).
Juliet Harding, member of the South African band Goodluck, states: "We need to stop thinking that because it's local it's inferior… We honestly need to look at ourselves and go 'wow we make the best music'. I call it national pride3." It is worth noting that no country can exclude the international music community, or prevent it from influencing local music. This paper found that local music quotas, properly enforced and monitored, can help foster a sense of national identity by supporting the local music industry (Chari, 2013: 6). However, the true impact of the 90% local music quota in South Africa is yet to be seen.
Maggz and L-tido to the beat ring.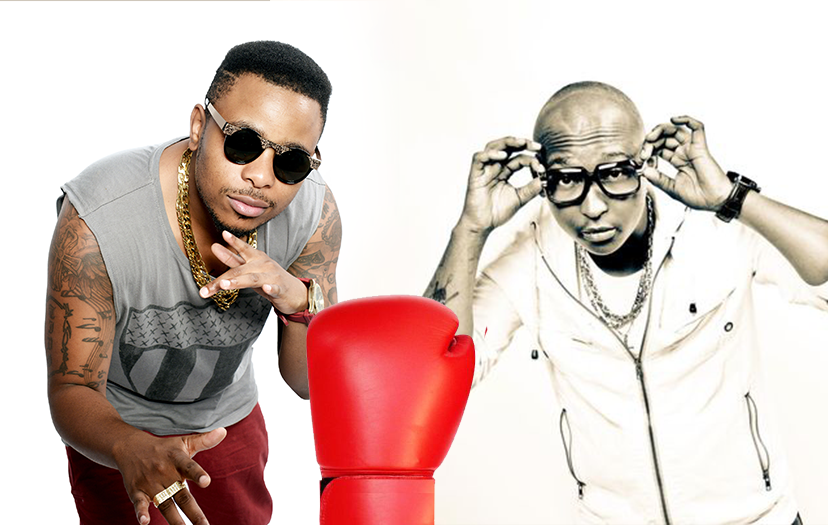 Sunday Chill sessions with a big bass speaker and a list of the most delightful beats in the industry and it almost feels like every club plays the same tracks. Ricky Rick to Cassper and then you move west coast, then back to major league and off with dj vigilante and the list goes on. #ChoDlozi Maggz and L-tido #DlalaKaYona get checked, Maggz posted a twit about his new single
#ChoDlozi Maggz and L-tido #DlalaKaYona get checked, Maggz posted a twit about his new single
Download the Brand New Maggz #ChoDlozi for Free here >>> http://t.co/au2H4Ckt2O pic.twitter.com/H1PddCme2u

— IG : maggz100 (@Maggz100) April 28, 2015
Listening to this #ChoDlozi track was like a bliss, syncronized lyrical blend to the beat and a fast but well paced rap delivered by Maggz. The song could have been better but it doesn't lag behind on the commercial genre which is different from his usual edgy rap style. It gets even better when L-tido rolled in line for what is to be the best sessions in Mzansi Hip-hop with his news of a new single #DlalaKaYona
It gets even better when L-tido rolled in line for what is to be the best sessions in Mzansi Hip-hop with his news of a new single #DlalaKaYona
My new single #DlalaKaYona got the streets on smash FREE DOWNLOAD —> http://t.co/VfRLhb1FAg pls share — #DlalaKaYona (@L_Tido) May 5, 2015
Listening to L-tido proved he has put a lot of work into this track as it really pulls the bar on songs that are in vogue presently. American Lyrical feel on the beat and some of his flow were very obvious but the lyrical content makes it comfortable.
These 2 songs coming from artists that are somewhat friends in the music industry makes this beat check a easy and fair play but considering the take of fans it might be a bit tricky.
Blending the track online shows the Originality check of the 2 songs, the style adopted by L-tido put his song rating in the red zone with most American Hip-hop songs, Online blender pulled out almost 10 America songs that has elements that are relative to his song.  On the other Maggz's beat was clean and authentic with a taste of Cash time as obvious, but fans have a different opinion with the hashtag checker we figured L-t
n the other Maggz's beat was clean and authentic with a taste of Cash time as obvious, but fans have a different opinion with the hashtag checker we figured L-tido's #DlalaKaYona was mentioned over 1,384,484 while #ChoDlozi made 1,863,464 on twitter – In Real Time / 14/05/2015 (Social Data Available on Request).
As a fan or a general lover of songs, it would be fair to credit both artist for effort but to be bold enough to speak about the elements that made one song better than the next and from the perspective of originality of lyrics and beat, Maggz killed this one.
We would like to know what you think !