Only six Telkom Unlimited Movie Marathon contestants remains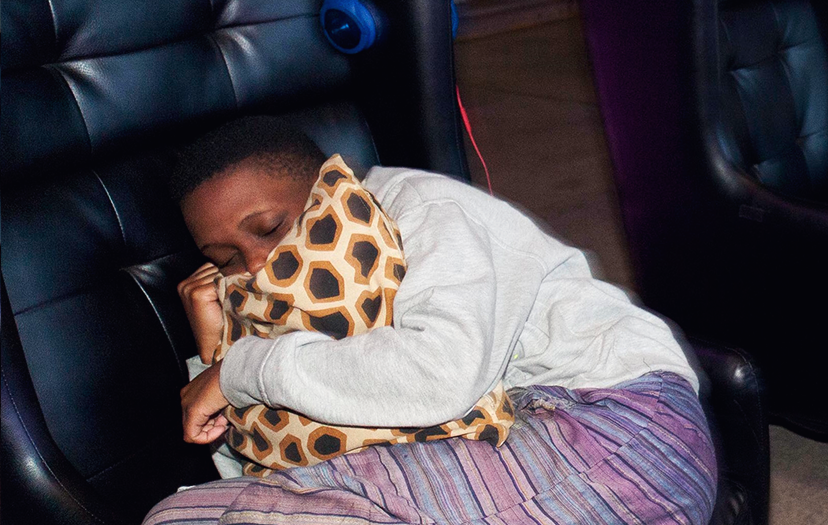 Another contestant has been disqualified in the race to set a new record, certified by Guinness World Records, for the longest time spent watching movies. Buhlebethu Hlatswayo fell asleep at 2:50am on Thursday morning for 24 seconds, having watched for 34 hours 51 minutes.
At 8:13am today, the remaining six contestants had clocked 40 hours 20 minutes.
The rules of the record attempt state that contestants may not sleep or take their eyes off the screen while watching the movie, and they are allowed only a ten minute rest break between movies. Movies have to be at least 90 minutes in length, and they must watch the entire film until the credits end.
On Wednesday morning, Aqeel Dockrat voluntarily withdrew after 13 hours 38 minutes due to ill health, while Tibor Donatus Kurucz, Tiberius Tjo and Louis Marx fell asleep for between seven and 20 minutes each, after they had been participating for 12 hours 42 minutes, 14 hours 22 minutes, and 14 hours 5 minutes respectively.
Thulisile Madyo declined her place shortly before the competition started on Tuesday afternoon and was replaced by Louis.
"We're impressed by the grit and stamina our contestants have displayed thus far. Most of us love watching movies, but this record attempt requires tremendous physical perseverance from anyone attempting it," said Jacqui O'Sullivan, Managing Executive for Group Communication and Public Relations at Telkom.
The current record stands at 120 hours 23 minutes, and the contestants are attempting to spend over 122 hours watching movies delivered via Telkom's BOLTSPEED fibre. This is the first time the record has been attempted by streaming content over high-speed internet.
Suresh Joachim, an international endurance competitor who holds multiple titles, arrived in South Africa on Monday morning to compete against ten South African contestants backed by 94.7 listeners and chosen from over 100 local movie fans.
The contestants have been advised not to consume drinks containing caffeine, as this would affect their heart rates. As a result of sleep deprivation during the event, participants are likely to experience an increase in blood pressure, mood swings, nausea and vomiting. Existing mental health issues may be exacerbated.
Paramedics are on standby to check participants' vital signs and an official Guinness World Records adjudicator will verify that all the requirements for the record breaking attempt have been met.
Dj Tira Massacres Red Bull Culture Clash 2017
The energy at Orlando Stadium was electrifying on the evening of 23 September 2017 as four epic Sound Systems battled it out for theRed Bull Culture Clash South Africa 2017 crown.
Over four intensely competitive rounds, AKA fronting Top Boyz Sound System, battled it out against DJ Tira's Durban Massacre Sound System, Patoranking and Red Hot Sound System and Admiral & Jahseed with African Storm – each repping their respective genres – hip hop, house, afro-beats and reggae. In the end, it was DJ Tira and Durban Massacre Sound System that won over the crowd and took the coveted title.
Hosts Siyabonga 'Scoop Makhathini' Ngwekazi and Thapelo Mokoena's on-stage chemistry kept the energy high between rounds as each one brought with it even more entertainment for the fans.
The four sound systems, each comprised of a heavyweight line-up of artists, delivered one-of-a-kind performances at the world's most innovative live music experience – Red Bull Culture Clash. To add to the suspense, each crew threw out exciting custom dubplate specials* with highlights including Jub Jub (as part of Top Boyz) remixing famous gospel song, Ndikhokhele Bawo, earning them an overwhelming response from the crowd.
The crews battled it out to the very end and kept true to their original fan promise to bring 'everything they had on the night'. Surprise acts are a big part of the excitement of Red Bull Culture Clash, and fans never know what to expect. International reggae star, Beenie Man's appearance, which was part of African Storm and Red Hot's surprise guest, Zola, got the crowd going, but adding the strong throwback from Mdu Masilela to the mix helped seal the deal for Durban Massacre.
Overwhelmed by his win, DJ Tira was proud to hoist the winner's title belt: "Winning this title means a lot to me because it shows people that Gqom and Durban house is here to stay, and will dominate and shape future sounds. That's all we ever wanted to do – stay true to ourselves and where we come from. We gave people what they wanted and they responded to the genuine, heartfelt music we shared. That's what it's all about and we are proud to solidify our sound further. Thanks to the music lovers and supporters, it wouldn't be possible without them."
The Culture Clash concept was introduced in the UK in 2010, by the Red Bull Music Academy. It is Red Bull's longest-standing music programme and has since made its way around the world, to cities such as New York, Lisbon and Paris. Red Bull Culture Clash is based on the classic Jamaican sound system culture.  It's defined by the use of cutting-edge lyrics, fierce competition and ridiculously loud sound systems.
Red Bull Culture Clash event crew line-up announced
Red Bull Music Academy is a world-travelling series of music workshops and festivals. Two groups of 30 selected participants—producers, vocalists, DJs, and instrumentalists from around the world—come together in a new city each year for two weeks of collaborations, lectures, and performances.
The Academy began in 1998, and has been traversing the globe since. In 2010 it took place in London, when the first Culture Clash was hosted as part of a five week-long city festival.
Preparations for Red Bull Culture Clash are heating up at a rapid pace as headline artists AKA, DJ Tira, Patoranking and Admiral & Jahseed, enlist some of the industry's top musicians to back their respective crews for an epic show that is being labelled the biggest live music battle experience the continent has ever seen.
Check out the downright impressive Red Bull Culture Clash crew list below.
---
AFRICAN STORM SOUND SYSTEM featuring:
ADMIRAL & JAHSEED
DANCE HALL QUEENS
TOL A$$ MO
OSKIDO
SPEEDY
SECRET GUESTS 
RED HOT SOUND SYSTEM featuring:
PATORANKING
GEMINI MAJOR
DJ SNYPES
MAJOR LEAGUE DJZ
JUPITAR
SECRET GUESTS
DURBAN MASSACRE SOUND SYSTEM featuring:
DJ TIRA
NAAK MUSIQ
DISTRUCTION BOYZ
L'VOVO
PROFESSOR
DUNCAN
BIG NUZ
KILLER KAU
SECRET GUESTS
TOP BOYZ SOUND SYSTEM featuring:
AKA
ANATII
JR
MASTER A FLAT
YANGA CHIEF
DJ FANATIC
TWINS ON DECKS
SECRET GUESTS
---
The list of talent to expect on the night doesn't stop here. Crews will be introducing additional surprise artists during the event as part of their arsenal of musical weaponry they bring to the battle.
In the lead up to the event, AKA notes "None of the teams have what it takes to beat our Top Boyz Sound System. We're making sure we have all the right elements – world class talent, infectious energy and impressive sound and lighting – to bring fans a one-of-a-kind performance. The crowd and competition won't know what hit them! Get ready SA, we're coming for you."
Be prepared for a night of larger-than-life sounds and surprises and show support for your 'chosen crew', as it's the response from the crowd that decides the winner on the night.
Follow Red Bull Culture Clash on redbull.co.za; Twitter @RedBullZA, Facebook @redbull, Instagram @redbullza  and YouTube. Join the conversation using #RedBullCultureClash.
Don't miss out on the action! Get your tickets for Red Bull Culture Clash 2017 from Computicket. Doors open from 6pm on 23 September at Orlando Stadium.
Grit is Gold at Africa Property Investment Summit
SANDTON, JOHANNESBURG – JSE-and Mauritius-listed company, GRIT Real Estate Income Group, will be attending the noteworthy platform for real estate investment in Africa this week at the Sandton Convention Centre to discuss current trends, share industry experiences, and hopefully emerge having made positive connections in the various African countries.
As a top tier Gold Sponsor to the Africa Property Investment Summit & Expo (API), GRIT will be connecting with the most influential local and international Africa property stakeholders, in the promise to seek meaningful and profitable investment into a range of real estate, infrastructure projects and developments across the continent.
The API Summit gathers the region's most senior investors, developers, operators and professionals providing the right platform to do deals across the region.
It is in this precise vein that Grit is Gold. It pioneered the concept of providing investors direct access to real estate ownership in Africa's high-growth markets (excluding South Africa).
This is a dynamic, high-growth company that has established a strong portfolio of retail, corporate residential, hospitality, warehousing and commercial office assets in Kenya, Morocco, Mozambique, Mauritius and Zambia, with a view to expand into more markets, especially where REIT (Real Estate Investment Trust) legislation has been promulgated.
Grit distributes its income to shareholders in US dollars, making it a currency hedge in addition to participating in superior distribution growth. The Company recently distributed its sixth consecutive distribution to shareholders and targets a dividend yield of over 7% in US dollars.
Grit CEO, Bronwyn Corbett has two days of bespoke networking opportunities, focussing on Morocco, Nigeria, Ghana, Kenya, Rwanda, Tanzania, discussing the impact that structured real estate investments can have on development of the continent.
Given the strong correlation between the investment case of REITs on the one hand and the investment mandate of pension funds on the other, REIT legislation has been a significant catalyst in the growth of listed real estate investments in those markets.
Although Grit distributes its income in the same way as a REIT does, it is not a REIT and pays the relevant taxes in-country.
For South African investors, this means they are charged a lower foreign dividend tax on their earnings, as opposed to a higher income tax compared to distributions from South African listed REITs.
Says Grit CEO, Bronwyn Corbett, "We offer investors exposure to hard currency income at emerging market growth rates, making us a unique addition to any investment portfolio.
Our risk is mitigated by the quality of our tenants, including the likes of Vodacom, Barclays, Beachcomber and Lux Resorts as well as the long-term hard currency leases we have entered into.
Going forward, we are targeting growth in our current countries of operation as well as in new jurisdictions including Botswana, Rwanda and Ghana."