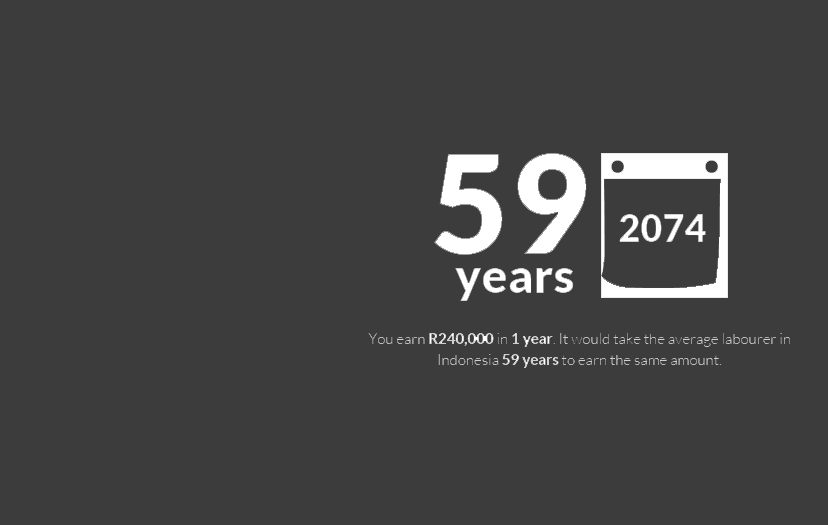 Everyone wants to know if they are doing well financially in the grand scheme of things. In our capitalist society, wealth is something most people aspire to. But how wealthy is wealthy and how do we know if we are on the right track? A website called globalrichlist.com has created a great interface in which you can enter your income or net wealth and compare it to that of the rest of the world. Its unclear where they get their data from and I doubt it is 100% accurate, however, it is still pretty interesting and worth having a look at.
I did a test run and used a simple net annual income of R240,000 per annum (thats a net of R20,000 per month). According to the website, that would put you in the top 0.44% richest people in the world, or at number 26,272,612 of the entire global population. That really puts things into perspective and has the potential to make any complaints you might have about not earning enough completely moot. If the simple statistics of where you fit globally aren't enough, if you keep scrolling down, they make the comparison even clearer and more startling. See the results below:
---
---
---
I think the moral of the story is to be grateful for what you have. What little you may have could mean a whole lot to someone else on the planet. Go ahead and plug your net income in here to see where you stand.
Are your children equipped to manage their own money effectively
Alfred Ramosedi, African Bank Group Executive: Sales and Marketing, says this is one of the many challenges parents face but also the most incredible gift you can give your children. "The problem we are facing is that when children grow up in privileged environments, they don't know how to manage money. They've never learnt to save towards a goal or even been taught the basics of investing, despite growing up in households where saving and investing for the future were possible," he says. Ramosedi says that, without doubt, children whose parents encourage them to manage money grow up to be responsible and financially independent adults.
"What parents need to understand that it's never too late to start teaching your children about money. If you haven't done so yet, start today," he says.
So, as a parent where do you start? Ramosedi offers the following advice:
Piggy banks and saying no
Teach your very young children about saving money through a piggy bank concept and the value of money by not buying them everything they see. "Young children respond very well to the concept of saving if they have a realistic goal to work towards. It's also interesting to see how quickly children learn that 'money doesn't grow on trees' when they are told they have to wait for an item and don't have it purchased immediately. There is nothing wrong with telling your children they can't have an item because you don't have enough money but will save towards it.
First jobs
Set up a meeting with a financial advisor when your child gets their first job. Encourage them to put a percentage (say 10%) of their earnings into savings or possible investments each month. It is a good principle to learn from when you are young. People who have adopted this principle have learnt to manage their money, while those who haven't, never seem to have enough money. You might even want to consider matching their percentage of savings each month as a reward for their diligence.
Setting boundaries
A big problem in society currently is that parents are expected to support their children financially for longer. This places enormous pressure on parents. "There seems to be a culture of delaying working life amongst millennials. Tertiary education, for example, is often seen as a way for young people to avoid entering the work space. Money spent on education is only an investment if your child takes their studies seriously, it should not be used as a way to delay working life. By insisting your child takes out a student loan to study they may strongly rethink whether studying is for them at all. The longer we support our children financially, the more we erode their self-confidence and independence. Don't be afraid to set boundaries and enforce these when it comes to money and how it is spent in your home.
Celebrate hard work
Teach your children to be proud of the work they do – whether it's doing chores for pocket money or starting a small business. Having a job and a purpose is something to be proud of. Children should learn to value work from a young age because earning an income and using it wisely are interconnected.
"Children learn through the values they experience at home, not through what they're told to value. If you want to give your child the gift of knowing how to manage money, be a good example. Decide what your value system is and don't be afraid to discuss finances with your children," concludes Ramosedi.
Is Leasing a Car Right Now Your Best Option?
We are living in times whereby buying as opposed to leasing or renting is seen as a form of investment, the level of achievement, self-worth and so forth. When you are ready to acquire a certain asset, you automatically think along the lines of purchasing it via financing or cash. For some people, it might make better financial sense to lease or rent out assets more especially, if you take the weakening Rand and inflation rates into consideration. Do you fall under this category? Do you believe in the comfort of buying and ultimately owning your assets? If you have not given this much thought. Let's explore which option/s would best suit your pocket, needs and lifestyle say you had to get a car today.
What personal vehicle financing options do we have at present in the country? What are their benefits and disadvantages? Let's discuss…
1. Installment Sale
When you are able to purchase a vehicle and pay for it over an agreed period. At the end of the credit agreement and final installment, ownership is automatically passed to you and you can also choose to trade in the vehicle.
BENEFIT – If you own a car you do not have economic penalties or mileage restrictions like when you lease or rent a vehicle.
DOWNSIDE – Service or motor plans and insurance costs are your sole responsibility even before you become the official owner.
2. Lease
When you are able to have uninterrupted use of a vehicle without owning it. However, you have the choice of owning the vehicle by settling/refinancing the guaranteed future value or returning it to the financial institution at the end of the agreement period.
BENEFIT – You can drive a brand new car every 2 to 4 years and enjoy new model advancements like more safety, petrol efficiency and vehicle performance as a whole.
DOWNSIDE – You will be obligated to pay balloon payments at the end of the agreement period. You have an annual mileage limit and if you exceed it the charge per kilometre will vary according to the vehicle purchased.
3. Rental
When you able to have uninterrupted use of a vehicle without the option of ever owning it. You basically pay for the use of the vehicle.
BENEFIT – You have more repayment options such as annual or quarterly repayment plans. You can also negotiate a residual value to reduce monthly payments.
DOWNSIDE – You need to return the vehicle in good condition and within the agreed mileage restrictions and parameters. You will be liable to pay for restoration costs except for fair wear and tear.
If you have a bad credit rating or are blacklisted you can "rent to own" a car for a predefined period of time while driving around in it and paying a monthly rental fee. If you want to terminate your agreement, you need to simply return the vehicle to get your deposit back. If we are still undecided about getting a car why not look into investing your hard earned cash instead?
Applying for credit: responsible borrowing means taking up only what you can afford
The right credit at the right time can add significant value to your life and your financial wellbeing. But taking out a loan is never a decision to be made lightly.
"The fact that you qualify for credit, does not mean you are ready to take it up," says Mark Young, deputy CEO at Bayport Financial Services. "Consumers who are unprepared for the responsibilities of credit often do damage to their credit profile and end up with more debt than they can handle. Responsible borrowing means taking up only what you can afford, and paying your account regularly as per your agreement".
Here are a few important points to bear in mind when you consider applying for a loan:
Your rights
The National Credit Act states that you have the right to apply for credit, be protected against discrimination in the granting of credit and be given sufficient reasons why your application was declined. You also have the right to documentation written in plain and simple language.
The credit provider's rights and responsibilities
As part of considering your loan application, the credit provider has the right to ask your permission to access your credit records from a credit bureau. The provider also has the right to turn down your application should it find sufficient reason to do so.
A credit provider's assessment and decision is based on your credit profile, and the information you provide in your application. It is in your own best interest to be honest and open in your application.
Criteria to obtain credit
Credit providers want to be confident that the credit they grant will be paid back on time and in full. Therefore, they conduct a credit risk assessment using the following criteria:
·         Can you repay the loan?
This is a measure of whether you can afford to repay the loan on time, and depends largely on your gross income and expenses.
·         What does the economy look like?
A poor economy might make it harder for you to repay the credit. Credit providers consider factors, such as the potential for strikes or retrenchments in your industry, which might affect your job and income.
·         Will you pay if you can?
Credit providers also look at your credit behaviour to determine the risk you might pose to them. Here they will assess your credit profile from a credit bureau and will check their own credit records to see how you managed your relationship with them in the past.

"How you managed your finances in the past will have a big impact on your ability to get a loan in future," says Mark. "If you have drawn up a personal budget and ensured that you can afford it, credit can be a great way to relieve financial pressure and start building an asset base for your future."