The Benefits of Growing Your Own Food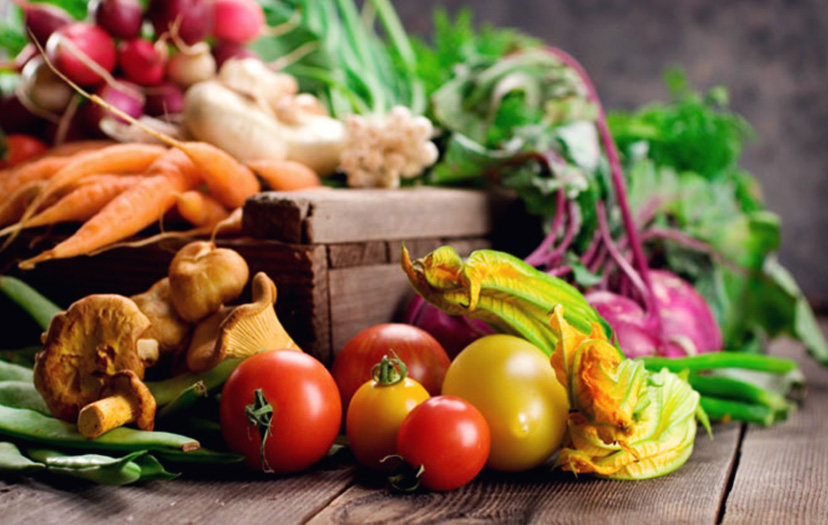 While you probably appreciate these efforts, frankly, the majority of us didn't change. That was until gas prices hit an all-time high last year. As a result, people actually modified their behaviors to conserve gas. The fact that it was a boon to the environment wasn't the catalyst, although the effect was the same. Put simply, sometimes it takes a hit to the wallet to rustle up real change.
Now that the entire economy is in a slump, people are responding by tightening up and reducing consumption in general—not just at the pump. The cost of everything seems to be higher these days, especially at the grocery store, a trip you can't skip. Maybe you can skip it, or at least drastically slash your bill, by growing your own food.
Growing fruits and vegetables seems overwhelming to most people, but it's actually much simpler than it sounds. (Plus you don't have to trade in your suburban or urban lifestyle for a life in the sticks in the name of self-sufficiency or savings.) All you need is a few square feet of the great outdoors, a water source, and a little time. Your grandparents did it, and so can you.
If you still aren't convinced, consider these benefits of backyard gardening:
Improve your family's health. Eating more fresh fruits and vegetables is one of the most important things you and your family can do to stay healthy. When they're growing in your backyard, you won't be able to resist them, and their vitamin content will be at their highest levels as you bite into them straight from the garden. Parents, take note: A study published in the Journal of the American Dietetic Association found that preschool children who were almost always served homegrown produce were more than twice as likely to eat five servings of fruits and vegetables a day—and to like them more—than kids who rarely or never ate homegrown produce.
Save money on groceries. Your grocery bill will shrink as you begin to stock your pantry with fresh produce from your backyard. A packet of seeds can cost less than a dollar, and if you buy heirloom, non-hybrid species, you can save the seeds from the best producers, dry them, and use them next year. If you learn to dry, can, or otherwise preserve your summer or fall harvest, you'll be able to feed yourself even when the growing season is over.
Reduce your environmental impact. Backyard gardening helps the planet in many ways. If you grow your food organically, without pesticides and herbicides, you'll spare the earth the burden of unnecessary air and water pollution, for example. You'll also reduce the use of fossil fuels and the resulting pollution that comes from the transport of fresh produce from all over the world (in planes and refrigerated trucks) to your supermarket.
Get outdoor exercise. Planting, weeding, watering, and harvesting add purposeful physical activity to your day. If you have kids, they can join in, too. Be sure to lift heavy objects properly, and to stretch your tight muscles before and after strenuous activity. Gardening is also a way to relax, de-stress, center your mind, and get fresh air and sunshine.
Enjoy better-tasting food. Fresh food is the best food! How long has the food on your supermarket shelf been there? How long did it travel from the farm to your table? Comparing the flavor of a homegrown tomato with the taste of a store-bought one is like comparing apples to wallpaper paste. If it tastes better, you'll be more likely to eat the healthy, fresh produce that you know your body needs.
Build a sense of pride. Watching a seed blossom under your care to become food on your and your family's plates is gratifying. Growing your own food is one of the most purposeful and important things a human can do—it's work that directly helps you thrive, nourish your family, and maintain your health. Caring for your plants and waiting as they blossom and "fruit" before your eyes is an amazing sense of accomplishment!
Stop worrying about food safety. With recalls on peanut butter, spinach, tomatoes and more, many people are concerned about food safety in our global food marketplace. When you responsibly grow your own food, you don't have to worry about contamination that may occur at the farm, manufacturing plant, or transportation process. This means that when the whole world is avoiding tomatoes, for example, you don't have to go without—you can trust that your food is safe and healthy to eat.
Reduce food waste. Americans throw away about $600 worth of food each year! It's a lot easier to toss a moldy orange that you paid $0.50 for than a perfect red pepper that you patiently watched ripen over the course of several weeks. When it's "yours," you will be less likely to take it for granted and more likely to eat it (or preserve it) before it goes to waste.
Even if you don't have big backyard—or any yard for that matter—you can still grow food. Consider container gardening if you have a sunny balcony or patio or an indoor herb garden on a windowsill. You'll be amazed at how many tomatoes or peppers can grow out of one pot. Or find out if your city has a community garden, where you can tend to your very own plot. Check out Buhle AgriApp to locate a farmer and get tips to help you about farming.
Whatever your motivation for breaking ground on your own backyard garden, chances are good that you'll take pleasure in this new healthy hobby, and that your wallet, the environment, your body, and your taste buds will thank you!
Extracts from Sparkpeople
A mexican taste with the KFC Burrito
The fiesta of flavour started in Cape Town and Sandton as Mi Casa musician and self – confessed foodie J'Something introduced media, celebrities and KFC fans to the new KFC Burrito and showed them how to make it from scratch! The special guests couldn't get enough of this huge Mexican mash-up of the signature KFC Zinger taste with classic Mexican flavours.
"We made the KFC Burrito just like they do in the restaurants, and I can tell you it's super yummy, super filling and you are going to be queueing up to get this baby!" says J'Something. "The combination of fresh, crunchy KFC with that Zinger zing and the new Mexican flavours, all wrapped up nicely, makes it the perfect meal on the go."
South Africa's favourite fast food restaurant is always innovating to keep up with fast-changing food trends, according to KFC Chief Marketing Officer for Africa, Mike Middleton. "Mexican flavour is a global trend and we are offering our customers the same great delicious experience. The Burrito is flavour innovation and complete hunger satisfaction in one. We want to stay top of the log with our customers and keep giving them the traditional finger lickin' good taste that they know and love, while also introducing exciting new combinations that keep up to date with food styles and changing tastes."
Middleton says innovation is the lifeblood of any retail business. "Particularly in the quick service restaurant sector, innovation keeps our customers coming in for new finger lickin' good moments".
SA's First Blind Barista Causes a Stir
Working at Kaleidoscope's museum in the Blindiana Barista Coffee Shop, where he has become a major attraction.
Blindiana Blend, a Kaleidoscope & Beans for Africa initiative, is coffee that is blended, tasted, packed and distributed by the blind.
Kaleidoscope, (previously known as the Institute for the Blind), is a non-profit organisation that has been catering for the all-inclusive needs of the blind since 1881. Visually impaired persons of all ages are empowered through the provision of education, training, care, employment, development and accommodation towards a fulfilled life and complete citizenship.
Joseph trained at the centre, which continues to offer training to visually impaired baristas on an annual basis.
Espressos, macchiatos, Americanos, and lattes – Joseph has mastered them all.
"Visitors cannot believe that their coffee was made by a blind person," he says. "It was not an easy process though. In the very beginning I had a few incidents where I burned myself. It was a nightmare learning to froth the milk. But today I can successfully prepare a cup of coffee and I get the smell of success."
Matheatau was not born blind, but lost his sight in his left eye at the age of three. Through the years his sight in his right eye also deteriorated to such an extent that he was unable to attend school.
"It is difficult if people and your family do not believe in you. My family believed I was too lazy to see and to go to school. The teachers at school made jokes about my eye condition."
Joseph finally lost his vision in his late twenties and was then faced with a long period of suffering and enormous challenges. He joined Kaleidoscope training centre in Worcester in January 2014 to study Marketing and Entrepreneurship and then trained as a barista.
"It might sound strange, but in my heart I always knew I was going to be someone special one day," he says. "When I used to tell my friends I was going to have my own shop and write out cheques someday, they laughed at me."
Matheatau's dream is to open his own coffee shop in Bloemfontein within the next 5 years. "I cannot wait to make that first cup of coffee for my mother and sister," he adds.
At this stage he had successfully completed his mobility training, he is progressing well in Braille, used the services of the counsellor to make peace with all his losses, mastered the computer and
Joseph will be doing a Blind Taste promotion with Kaleidoscope to promote their coffee and sell their merchandise at the Red Café in Steenberg at the Steenberg Village Shopping Centre on the 15th June.
He says that the Blindiana custom roast blend was created from Central and South American coffees blended with African beans and has a great aroma and lingering finish. "The qualities add a wonderful depth and the African coffee gives it that bittersweet, earthy taste that makes it exceptional," he explains. "This blend of Arabica coffee beans is roasted to a medium-dark finish, which creates a medium-body coffee with splendid aroma."
Hein Wagner, Kaleidoscope's brand ambassador, motivational speaker and global adventurer, says that Joseph is a shining example who is living proof that with determination and the appropriate training, support and guidance, anything is possible.
---
Blindiana custom roast blend can be ordered on line at www.kaleidoscopesa.org
South Africa's First Deaf-run Coffee Shop
I Love Coffee, South Africa's first Deaf-run coffee shop will officially open its doors in Cape Town in June. In partnership with Tribe Coffee, the entirely Deaf-run coffee shop launches with the aim of breaking communication barriers between the hearing and the Deaf. The shop offers an experience unlike any other, where customers are encouraged to engage verbally as well as visually with the Deaf staff, patrons are given the opportunity to be taught rudimentary sign language to place their orders and engage with the staff. The idea is the brainchild of social entrepreneur, Gary Hopkins who explains: "It's more than just coffee shop space, it's about a mind-shift and correcting the perception that Deaf people are disabled, Deafness isn't a disease and should be recognized as a culture, much like American, Italian, South African etc." Of the estimated 2-million disabled people in South Africa, 500,000 are classified as 'Deaf' and almost 1.5-million South Africans are considered to be 'hearing-impaired' which means that 4.5% of South Africa's total population is Deaf.
While South Africa recognises 11 official verbal and written languages, it has yet to recognise South African Sign Language (SASL) – the visual language that is common across all South African Deaf people. This in turn has deeper social implications as it limits opportunities for tertiary education and results in high unemployment amongst the Deaf. Employment is one of the biggest challenges the Deaf face in South Africa – this is evident in light of the fact that currently 70% of persons who are hearing impaired are unemployed.  Hopkins adds: "Most people know very little about Deaf culture and even fewer understand it, we are hoping that by bringing an ordinary everyday experience like ordering a cup of coffee or a toasted sandwich with the use of sign language or by service expectation being met, we can bring a better understanding about the capability of the Deaf. "The i love coffee brand aims to be a cool, fun and engaging and is not out to garner a sympathy vote," he says.
"We specifically chose a fun name and incorporated Deaf language into the brand by replacing the heart symbol with the SASL sign for 'I Love You'." "We have had incredible support from Western Cape Premier, Helen Zille, who most don't know has a Deaf sister as well as The National Institute for the Deaf who has assisted us with the recruitment of staff and are receiving barista training from Tribe Coffee," he says. "DeafSA, the non-profit organisation who acts as the national research, information and community action organization on behalf of more than 600,000 South Africans who are culturally and linguistically Deaf have assisted tremendously in bringing this project to life." On choosing the venue, Hopkins points out that the decision to launch in a gym in Claremont was a conscious one with a long-term view to expand the national footprint of the brand as well as having to launch on a very tight budget.
"This entire project has been self-funded with the assistance of some really great partners and as we get closer to opening we have other activities that will assist us in getting the brand off the ground," Hopkins adds. "We are running a crowd-funding campaign and fundraising event so we are able to purchase more equipment."
"Our world's currently feel so separate," says, Deaf born, Jessica Botha who is in her third year at UCT studying a Bachelor of Science, Sociology and Environmental & Geographical Science. "We define Deafness as a way of life and not a disability. We aren't blocked in living but only the language barrier between hearing and non-hearing people." Botha adds: "If hearing people learn to sign, they gain the skill of communicating in a different way, increased interaction between the Deaf and hearing community will make our world more inclusive."
"It is our goal to create more opportunities for job placement of visually impaired persons in the open labour market," he adds. Hopkins, says that the coffee shop and I love coffee brand will help change how the world engages with the Deaf – view the video here I Love Coffee will be officially open for business on the 6th of June and based at X-Body Fitness, The Mews, Draper Street, Claremont.