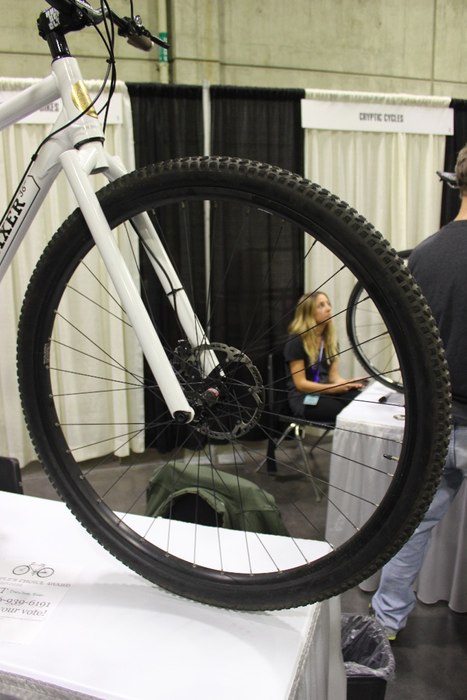 If you're an exceptionally tall cyclist, then you'll know that finding a bicycle that fits can be quite the challenge. Some manufacturers place a sort of teetering high-rise frame on regular wheels, but according to Santa Cruz-based frame builder David Folch, that setup doesn't result in proper handling or ergonomics. That's why he's created the ginormous DirtySixer.
Each DirtySixer features two 36-inch wheels, originally manufactured for use on unicycles – by contrast, the largest conventional mountain bike wheels top out at 29 inches.
While some tinkerers have placed giant unicycle wheels on regular bike frames before (albeit with a few adjustments), Folch claims that the DirtySixer is unique in that its frame is designed and built around the big wheels, plus its main components are accordingly oversized.
"I created a safer, more balanced geometry that puts the rider in the center of the bike," he says. "The longer wheelbase moves the weight of the rider forward, to the center of the bike, resolving the inherent instability of the regular bikes that were 'adapted' to tall riders. I wanted tall-specific ergonomics, with a more comfortable riding position."
Although Dave has actually been making individual DirtySixers for the past several years, he's now hoping to go into larger-scale production (no pun intended), and has started a Kickstarter campaign to fund that effort. A pledge of US$3,499 will get you one of his big bikes, when and if the funding goal is met. Plans call for the DirtySixer to be hand-built in California, and to retail for $4,499, South Africa Jim Crawdil as also started his own import plans to get the bikes into the country, while other african countries wait.