Future Education – E-Tech at EduWeek
EduWeek with SABC Education powered by Intel is a free-to-attend education event which takes place on the 29th and 30th June at the Gallagher Convention Centre in Midrand. Recognised as the most comprehensive education event in Sub-Saharan Africa, visitors to this year's EduWeek conference can look forward to a series of free workshops focused on providing free educational training and development for teachers and educators, as well as one-on-one interaction at the various exhibitor stands.
The theme for EduWeek with SABC Education powered by Intel for 2016 is Sustainable Development in Education.   Education for Sustainable Development is focused on allowing every human being to acquire the knowledge, skills, attitudes and values necessary to shape a sustainable future and one cannot mention the future without talking about technology. Technology's role in education is undisputed — it is certainly viewed as an effective means to enable both student and teacher in creating a more engaging learning environment. For many educational institutions though, the question remains how to efficiently use the technology resources available to them. In South Africa currently, where improving education is a nationwide concern, the role of technology is not just a luxury, but perhaps a much-needed solution.
EduWeek sees the role of technology in Education as a critical one and it is the aim of the event to ensure that technology is being integrated into the curriculum delivery process. The role of the teacher and the lecturer is at the heart of successful use of technology and that is why technology has become a focus on the event's calendar to aid educators in understanding how best to integrate this tool into the classroom, now and into the future. Leading Education technology provider Intel has once again partnered with EduWeek as the headline sponsor of the event and will showcase its latest developments in innovation, security and technology for inclusive education.The E-Tech Theatre will host Intel's workshop titled, 'Looking at the African Classroom of the Future' where they will explore what the African Classroom of the future will look and the technologies that will be interacted with.
EduWeek are proud to announce Microsoft as Diamond partner this year. Visitors to the Microsoft stand will experience a deep-dive into the complete Microsoft in Education ecosystem. From Minecraft and Xbox through coding, the latest Windows devices and Office 365 as well as previews of exciting new developments such as Microsoft Classroom and OneNote. There will be a live classroom demo theatre where our team will be showing off many of these tools and demo'ing just how great they are to use in the classroom.  "The success of the digital transition of education depends on more than devices and connectivity," says Claudia Johnston Education Sector Lead at Microsoft South Africa. "It also requires that learners have access to tools and creative content to get the most out of their lessons while teachers have the support they need to make classes and sessions more memorable, interactive, and relevant for their learners. Doing so will allow Microsoft to play a key role in imparting the youth of today with the hard and soft skillsets they require to be successful in the workplaces and boardrooms of tomorrow. However, this depends on these learners having well-trained teachers equipped with the right skills to make learning relevant and contextual for the youngsters they are teaching. Teachers are the single most important factor in better education outcomes and at Microsoft, we recognise and support this with our work across the country – hence our participation in EduWeek 2016." Angela Schaerer (Teacher Engagement Manager, Microsoft South Africa) will also be chairing  a panel discussion around whether technology will save our schools.
Dell are also welcomed to EduWeek this year as a Gold Partner. Said Ravi Govender, Education Lead for Dell South Africa, "For Dell, the most important enabler of human potential is technology. We want to address how important is to invest in purpose built technology for education and how Dell is positioned to do this. We see our role as helping Education institutions to drive learning through technology in the classroom. Part of this also falls into our future ready vision of bringing technology today which can cater for changes that are coming within the learning spectrum of the future."
EduWeek has established a powerful reputation in the industry, especially within the realm of digital technology. As a result, the largest quantity of quality leading-edge digital and technology brands such as Intel, Microsoft, Dell, Samsung, Positivo and Vastratech choose to only showcase their newest range of end-to-end solutions annually at EduWeek.  This means that any African professional with a vested interest to see, try and buy educational technology would be at a serious disadvantage if they did not attend this year's event. Additional topics on the agenda for day one of E-Tech include data, gaming in the classroom and how to improve your school's maths and science results tomorrow.  Day two of the free sessions cover such topics as implementing a successful E-Learning solution, iPad fundamentals for Teachers, Mastering the Techno Life Balance, Robots and Maths, Get the Spark Back in Your School, Virtual Reality and mobile technology learning.  For detailed information on the free workshops and speakers, visit:  http://www.educationweek.co.za/e-tech-programme/ EduWeek is where public and private stakeholders can gather to discuss future solutions and critical issues surrounding the education sector in Africa as well as evaluate, see and buy new solutions for their education institution's needs.   Says Tanya Jackman, Event Director of EduWeek, " EduWeek's vision is for all educators to have access to free hands-on training & practical advice as well as direct access to the leading solution providers.  Understanding the future of education and the role technology will play in this is critical and the E-Tech Theatre sessions will go a long way to informing, inspiring and dispelling fears."
Young leaders debate poor pass rates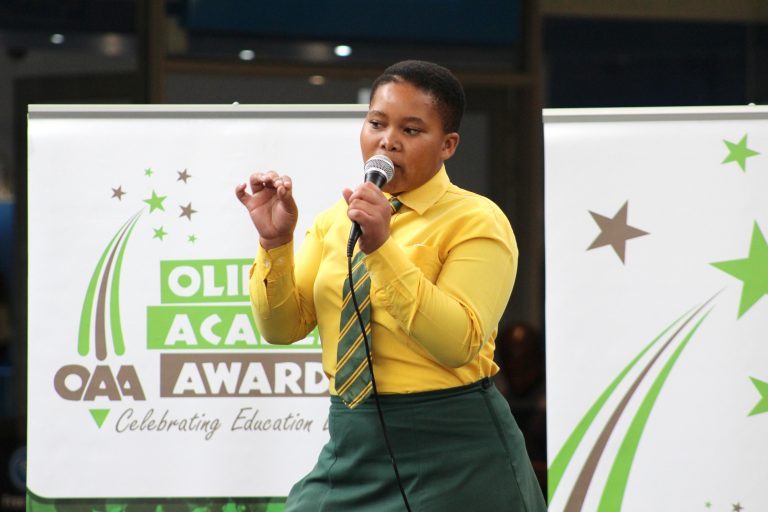 Pupils from three high schools in the underprivileged community of Olievenhoutbosch will apply their minds to the problem of poor pass rates when the second annual OAA Schools Debate Competition takes place on Saturday, September 23.
Forming part of the Olievenhout Academic Awards programme, the debate will see pupils from Olievenhoutbosch, Seshegong and Steve Tshwete secondary schools take to the stage at Forest Hill City shopping centre to tackle the issues affecting their educational progress.
Each five-member team will comprise a representative pupil from grades 8 to 11 and a teacher. Mooted topics include whether mathematics should be compulsory for all pupils, and whether cash incentives for high test scores or the public posting of results on school noticeboards would have an impact on pupils' performance.
Forest Hill City marketing manager Annah Moremela said, aside from finding solutions to very real problems, the aim of the competition was to develop vital faculties such as research, critical thinking, logical argumentation and public speaking skills.
"We are always proud to support community initiatives, such as this one by Goat Creative Solutions, which aim to get people thinking about and acting on important social issues," said Moremela.
She said the three participating schools were to be commended on their strong academic performance despite the socio-economic challenges they faced in their community.
Last year, Seshegong, Steve Tshwete and Olievenhoutbosch obtained matric pass rates of 90%, 80.5% and 77% respectively.
Moremela said supporting educational initiatives in particular remained a key focus area for the mall's community investment projects.
Last year's inaugural debate was won by Olievenhoutbosch Secondary School. While all participants will receive medals and certificates, the winning school and best speaker will be awarded their trophies at the main Olievenhout Academic Awards ceremony on October 28.
The debate takes place between 9am and 1pm in the mall's centre court.
Private doesn't always mean perfect: How to choose the right school for your child
With registrations for the new school year now open, thousands of parents are considering sending their children to private schools. While many of them would not have considered this option before, the rapid expansion of the private offering is seeing an influx into this sector. However an education expert warns that just as they would do with public schools and higher education, parents must do their homework before simply signing up with any school by virtue of it being a private one.
"Just as with public schools, quality and performance vary from school to school, and it is incorrect to assume that just because a school is private, it is automatically the best choice for your child," says John Luis, Head of Academics at ADvTECH Schools, home of 91 private schools across South and Southern Africa, including Trinity House and Crawford Schools.
He says the philosophy, approach and capacity of various private schools are vastly different, and that a school should be selected only after consideration of the specific needs of the child to see how they match to potential schools. Additionally, parents should carefully scrutinise promises against track record.
"Parents must firstly make sure that the overall ethos of the school is a good match to the family and the child," he says.
"When visiting schools – a non-negotiable part of the process of selection – parents should observe the learners and their interactions among each other and with teachers. One should ideally get a good sense that the environment is safe and stimulating, and that the school has all the resources and facilities one expects from an environment in which academic excellence can become possible."
Luis adds that parents should also look at the long-term performance of schools and their students, to ensure that learners are equipped not just to excel at school, but also to flourish in higher education and beyond.
Very importantly, parents should find out from the school how they are incorporating the very important 21st Century Skills as identified by the World Economic Forum into their teaching methodology and curricula, says Luis.
"Schools should no longer be operating in the way they did ten or even five years ago, with the approach of imparting knowledge top-down, and learners being exam-focused parrots. That does not serve us in the real world out there anymore, and will do so even less in future. Globally schools are moving towards empowering learners with the kinds of skills they need for our new workplaces – skills such as being able to creatively problem-solve, research, communicate and self-manage."
STEPS FOR CHOOSING A PRE-SCHOOL
Trudie Gilmore, Assistant General Manager at ADvTECH Junior Colleges, says there are few things that instil more anxiety and apprehension in parents than the task of finding the right school for their child's first foray into education.
"The choices can be overwhelming, the deadlines are impossibly early, and the pressure to get it right is huge," she says.
She advises parents to structure their search as follows:
Start your search at least one school year prior to attending, and note that many schools take applications as early as just after a child's birth. Schools should have viewings scheduled throughout the year, and you should attend these at all of the schools you have identified. If you missed the boat on timing, call around and arrange as many visits as you can. Most have waiting lists, and there are often last-minute openings. Be persistent by checking back in and being proactive.
The Viewing. You can attend an Open Day or Expo to hear about the philosophy, admission process and much more, then submit the application and registration fee. You can view the school while classes are in session, and we recommend that you bring your child to spend time in the classroom. Be ready with a notebook on the viewing, and bring a list of all your questions to be answered.
Know how often and how long you'd like your child to attend. Children usually attend preschool anytime from 3 months to 6 years of age.  Most schools should offer half-day and full-day programmes. Check that you are happy with the programmes for both the morning and the afternoon if your child will be there for the full day.
Gilmore says parents should check for the following to ensure that a pre-school programme is well-run:
Assess the quality of children's relationships with the staff. Pay close attention to the language used in the classroom and the friendliness of the staff. View a few different classrooms while school is in session to see how the teachers interact with the children.
Home-to-school connections are important. Preschools that have high family involvement are often the schools with the strongest programmes. When families are involved, children do better, teachers feel supported and everyone works together for the children's learning and development.
High-quality preschools have structure: They follow a specific philosophy or model and have specific guidelines for addressing challenging behaviour.
Discipline policies should emphasise positive approaches to teaching children new skills and proactive strategies for behaviour management such as classroom rules, routines and social-emotional lessons or curriculum.
STEPS FOR CHOOSING PRIMARY AND HIGH SCHOOLS
Morag Rees, Principal of Crawford College Sandton, says that to be academically excellent, a school should not only provide enriching, empowering and meaningful learning opportunities which challenge students' thinking, assumptions and abilities, but should also ensure that these learning opportunities provide a foundation for further study and successful future lives.
She advises parents to consider the following when looking at schools:
The culture of the school, which includes things such as diversity, community awareness, priorities (e.g. academics, leadership development, cultural activities and/or sports), student interaction, and commitment to learning.
Travelling distance is also a consideration – especially if the child and parents want to be fully involved.
Teaching philosophy and school ethos should align with the learner and parents' expectations.
The school's track record over the long term, which means not just looking at last year's matric results.
The options available to learners in terms of subject choices, extra murals, and genuine interest in offering every student opportunities.
The staff and faculty (qualifications, personalities, passion, genuine commitment to students and education).
Awareness of current education trends and research, and using technology in a relevant way.
"With the proliferation of private schools catering to a much bigger section of the population than ever before, parents may understandably be excited at the prospect of being able to give their kids 'the best', even if it entails some sacrifice," says Luis.
"But we urge parents to do their homework and to ensure that the sacrifice is not a blind one, because a cookie-cutter education – even if it is at a private school – is not desirable. Parents should ensure that the school they choose is able to tailor their offering to take into account each child's uniqueness, that it is an enabling environment, that it encourages relationship building, and that it is optimally conducive to learning and development."
Gone in 8.8 seconds: How to save your CV from the recycle bin
You spent hours crafting your first CV, showcasing your school years, qualifications and experience, but employers don't even give it 9 seconds of attention before moving on to the next one. Although the job market is tough even for people who have years of experience, it is particularly challenging for young graduates applying for entry-level positions, and first-time CV writers must put in extra effort to develop a stand-out CV, an education expert says.
"Research by the UK's youth programme, National Citizen Service, found that applications for junior positions have skyrocketed, increasing pressure on employers who have to wade through hundreds of CVs. In South Africa, the competition for entry-level positions is even fiercer, and the need for your CV to facilitate a foot in the door can't be stressed enough," says Wonga Ntshinga, Senior Head of Programme: Faculty of ICT at The Independent Institute of Education, SA's largest private higher education provider.
"You are at a tremendous disadvantage if your CV is poorly written and does not sell you effectively, and it is almost certain that you won't be invited to an interview if that is the case," says Ntshinga.
He says the best route for graduates is to approach their public university or private higher education institution's career centre for assistance in writing their first CV, to ensure it ticks all the boxes before being dispatched to the HR manager's inbox. In addition to ensuring that one's qualifications and experience match the technical criteria of an advertised position, first-time jobseekers should:
CRAFT AN INDUSTRY-SPECIFIC CV
An application for a position in finance will look very different to an application for a position in advertising, Ntshinga says. "As always, Google is your friend. Do an image search for CV examples in your industry, and demonstrate that you are in touch with the culture and approach to business in your chosen sector."
SHOWCASE NOT ONLY COMPETENCE, BUT ALSO CHARACTER
Demonstrate that the employer can trust you and that you are a perfect fit for the position. Show, don't tell. Raise relevant examples from you student or school career to prove your value in addition to providing qualifications details.
KEEP IT SHORT AND TO THE POINT
Less is certainly not more. Give yourself 9 seconds to scan your CV. Do your main selling points jump out at you? Is it clear from a first glance that you are suitably qualified for the position? Gone are the days when CVs stretched over numerous pages with personal details filling the first two. In 2017, the very first page (and there should be no more than two), has to give an employer a solid, positive overview of who you are and what you have achieved.
FOCUS ON FACTS AND FIGURES
When demonstrating your experience, don't just speak in general terms. Use facts and figures to prove what you have done. For instance, if you gained work experience or interned during your student years (which ideally you should have done), don't just say "Worked for Company Y" or "Was involved in Project X". Instead, say: "Company Y: Production coordinator on R5 million project with responsibility for a, b and c".
Ntshinga says all CVs, regardless of whether they are from first-time jobseekers or experienced professionals, should demonstrate that the applicant understands the position and business of the prospective employer, which means generic CVs are out of the question.
"Each CV must be tailored to the position being applied for.  While this does take time and effort, a generic CV will not take you anywhere. Looking for work should be treated as work in itself, so make the investment."
Ntshinga says that another way to highlight oneself as a candidate, is to demonstrate a commitment to lifelong learning.
"Show that you are proficient in the latest software required in the position you are applying for. Don't just list your existing qualifications, but also indicate if you are enrolled in any short courses or programmes to expand your skills."
And finally, a short, well-crafted cover or introductory letter should round off the application.
"This is an opportunity to let the hiring manager get to know you – so make sure the letter is concise but contains personality, and make extra sure that there are no spelling and grammatical errors," he says.