Investment by international underwear giant boosts local clothing sector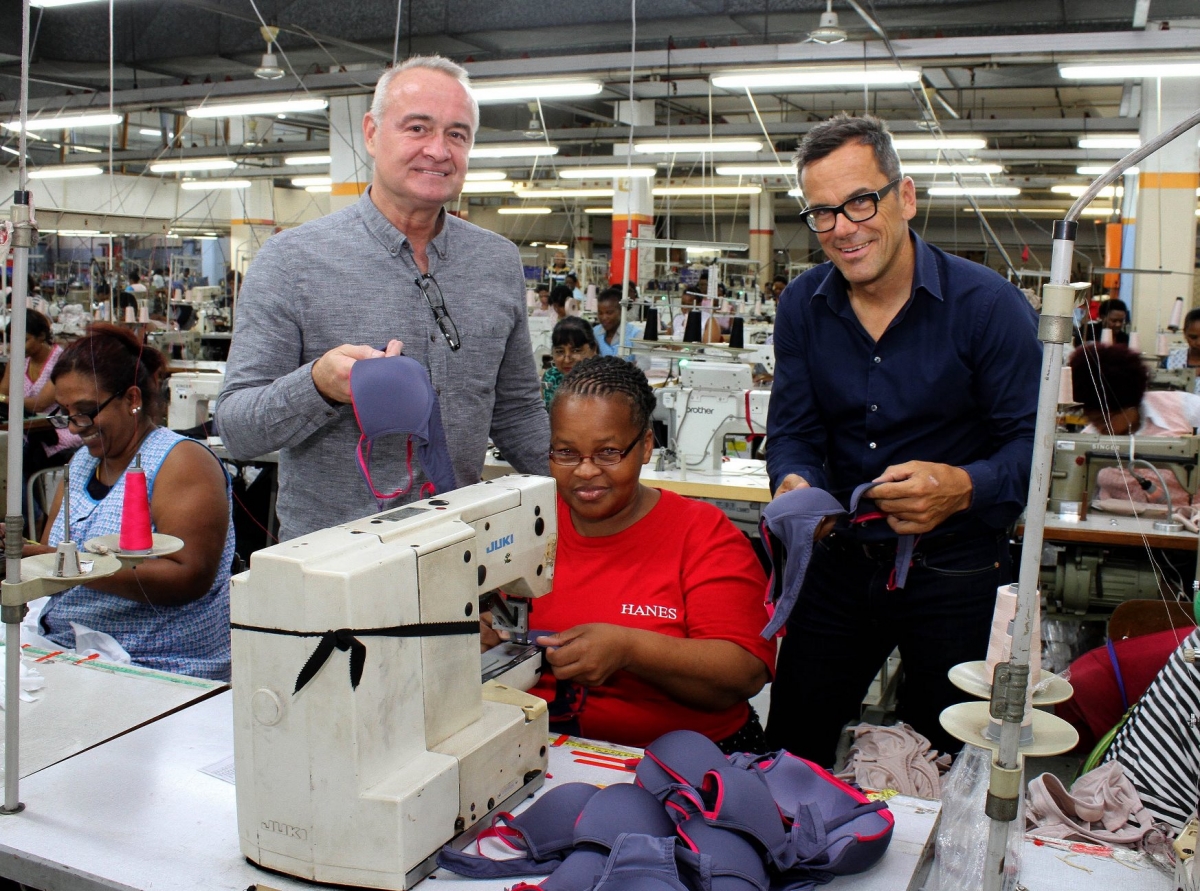 HanesBrands Inc, the $6 billion global leader in the manufacture and marketing of underwear, has acquired Durban based DB Apparel for an undisclosed amount.
Managing director of DB Apparel, Andre van Vuuren, said the company's name change to Hanes South Africa would be in effect from this month (February 2016).
He confirmed that the change of ownership and the name change would have no impact on the former DB Apparel's operations. "We will continue manufacturing and selling high-quality underwear that has built our reputation."
Becoming part of a massive international group which employs more than 53 000 people across the world and owns 23 top international brands including Playtex, Wonderbra, Barely There, FILA, Champion and Hanes, offered considerable advantages for a proudly South African manufacturer, he explained.
Created in 1970, DB Apparel is the only full assortment underwear manufacturer * in South Africa that supplies to both the male and female underwear markets. The company, which has its head office in Durban, produces around five million units per annum under five well-known global brands – Playtex, Wonderbra, Shock Absorber, BEAR and She Bear.
Despite being rocked by the many challenges facing the South African clothing and textile industry over the past two decades, DB Apparel has continued to grow over the years, adding brands to its portfolio along the way.
Van Vuuren said that the company had experienced an upswing in 2015. Despite challenges such as electricity shortages and the general economic downturn in the country, it is now at a significant advantage as a local manufacturer in light of the depreciation of the rand. The plan is to double the size of the business by 2020.
99 percent of all garments produced by DB Apparel are made locally. The company's exposure to risks associated with currency fluctuations is less than that of its competitors' as only the raw materials needed to manufacture underwear are imported. Most underwear produced in South Africa is imported as completed garments.
The advantage of a lower rand off sets South Africa's traditionally high labour costs, making local producers like DB Apparel more competitive, he said.
Becoming part of HanesBrands, which operates across all continents, opens up significant opportunities for the Durban-based company. Van Vuuren said that there was a strong possibility that the local factory could not only manufacture for the local and broader African markets, but also play a role in HanesBrand's global business.
HanesBrands is listed on the New York Stock Exchange. Its global supply chain is balanced across the East and West, leveraging fewer bigger facilities operating at scale and producing products for markets in 30 countries. The group has been on the acquisition trail since 2007 and now owns over 50 facilities across the world. These produce over 2.2 billion units per year.
As one of South Africa's largest remaining clothing manufacturers, DB Apparel employs 795 people at its factories. Of these, 80 percent are female. Van Vuuren pointed out that, while the company will benefit from incorporation into this large global company, it still enjoyed the benefits that come from a strong local manufacturing base. These include staying in touch with its local market and catering to specific styling and sizing requirements as well as local tastes.
Pointing out that a bra, which is made up of between 35 and 40 different pieces, is an extremely complex product to make, van Vuuren said that the company valued its employees as skills were hard to come by.
The company is committed to training and up skilling its staff and has not only put in place extensive educational facilities for existing employees but also regularly accepts and trains newcomers to the industry doing internships.
Positive changes that are already underway include the upgrading of both machinery and computer systems.
Your cool drink bottle is not trash, and here is why
Mpact Recycling has called upon consumers to take greater care when disposing of their refuse. "We urge consumers to separate recyclable plastic bottles and other recyclable items at home instead of relying on recyclers to do so at landfill. By that time the plastic is often too contaminated with items like soil to be recycled," says Ronald Fairbanks, General Manager: Mpact Polymers.
Considerable progress has been made to increase the recycled portion of polyethylene terephthalate (PET) in the manufacturing of new plastic bottles. An increase in the percentage of Recycled PET (rPET) bottles is conditional upon two things: improving the industry's capacity to recycle (which has been achieved by Mpact Polymers PET recycling operation); and by improving the quality of PET being processed in the operation. By consumers ideally separating recyclables at source, they can ensure that the bottles don't end up in landfills as part of the municipal waste collection process which ultimately prevents them from becoming too contaminated to be recycled.
With the formal sector's increased investment into new recycling capacity, Mpact Polymers operation accounts for 85 direct jobs and indirectly, an anticipated 1,000 additional jobs are expected to be created within the recycling industry. This would be as a result of a greater demand for collectors, small businesses and buy-back centres.
In its latest results for 2015, PETCO (the PET Recycling body) reports that the organisation recycled an additional 15% of post-consumer bottles in comparison to the previous year and that the total PET market grew by 8.5% to 210 000 tonnes. The 1.7 billion PET bottles that were collected across South Africa in 2015, which equates to approximately 4.7 million bottles collected each and every day, sustained over 50 000 income opportunities. An annual PET recycling rate of 52% of post-consumer bottle PET was achieved and, for the first time, PETCO recycled more bottles than those going into landfills. The goal is to reach 170,000 tonnes by 2022 and the industry is on track to achieve this.
"Notwithstanding the positive improvement, we could be doing considerably better if we were to receive a higher quality of PET material. Consumers need to be educated that their cool drink bottles are not trash, but a livelihood for many, and an essential raw material to improving sustainable plastic manufacturing. Mpact encourages consumers to support recycling wherever possible. Doing your bit at home can make all the difference to job creation and protecting the environment," says Fairbanks.
Consumers need to learn to separate waste in the home. In the case of PET, this requires ensuring that recyclable plastic is kept separate from other waste and either delivered to recycling centres or left out for collectors to take away separately from municipal waste," concludes Fairbanks.
Losing money in the right ways and for the right reasons
Both questions get a big fat YES! They are right ways and reasons to lose money. Provided you are aware of the wrong ways and reasons too. Let's face it, there are countless challenges that come with being a millennial and money is at the top of this list. Before we delve into how to lose money in the right ways and for the right reasons.
Let's look at a few key-points from the economic review of our beloved country:
According to the recent World Economic Outlook (WEO) by the International Monetary Fund (IMF) South Africa is now the third-largest economy on the African continent. Surrendering its second place to Egypt and Nigeria remains in the number one spot.
The rand weakened from an average of R8.20/$ during 2012 to an average of R12.74/$ in 2015. On Tuesday, 17 May 2016 at 13:03 the rand was trading at R15.68 to the dollar.
The rand remains below successive support levels suggesting a continuation in the rand's depreciation.
In a Bloomberg survey 12 out of 13 economists expect Standard & Poor's (S&P) credit rating agency to cut SA's sovereign debt rating to sub-investment grade (junk status) by the end of the year.
Despite the recent price rally Brent crude's break below the key $30 support level in February suggests a continuation of the weakening long-term trend to a downside $25 target.
Gold has broken its recent downtrend by rising decisively above the $1 100 resistance level. An extended break above $1 250 is needed to confirm the end of gold's bear market.
The JSE All Share index is up +12% from its lows in early January and appears dramatically over-priced on a price-earnings (PE) multiple of 21.2x around 40% above its 14.8x long-term average.
View/download the full Overberg Market Report –http://www.overberg.biz/pdf/Overberg%20Market%20Report%2010th%20May%202016.pdf
South Africa is facing continuous food, fuel and electricity price hikes that make the cost of living higher each month. So, ask yourself will you and your loved ones be financially secure if the economy continues to depreciate? Or worse, if we were to hit a recession? If your answer is no or maybe and not a definite yes, then you have your answer.
You need to get the best financial education immediately on what's available out there for you to take advantage of; whilst there's still time. The National Treasury introduced Tax Free Savings Accounts a year ago. If you are unaware of this visit your nearest bank or life insurance company for more info.
If this is not the route you would like to take. Take the stock market investment route. Do some comparative research on various funds especially looking at fund performances before you choose one that aligns with your financial goals, needs and pocket.
The Overberg Market report is an indicator of the economic times we live in. Economic times which urge millennials to look into their personal finances and start saving from as early as possible. Millennials need to get into the habit of losing money in the form of savings plans and investment portfolios. Now is the time to be proactive.
SA's Most Beautiful Baby Search is On!
Online baby competition is back for a 2nd year and looking for South Africa's most beautiful babies. Due to popular demand, the qualifying age group has been extended to babies between the ages of 0 and 36 months. The competition celebrates the beauty and diversity of babies across South Africa and all entries will support this year's nominated charity, the 'Mater Domini Home', a treatment centre that gives hope to pregnant women in crisis and those suffering abuse.
The baby who is voted to first place with the most votes will win the grand prize of R100 000 (R50 000 more than last year), and R15 000 for the 2nd runner up and cash prizes for the remaining top 8 finalists. Both the competition and voting start on the 2nd of May with the top 50 entries being announced on the 20th of June. Entry is FREE and easy; Parents can simply upload their baby's picture onto mymostbeautiful baby website free of charge and bring their entry to life with added descriptions, videos and photos and then… get all their friends and family voting!
Registration and voting is open for seven weeks from the 2nd of May till the 20th of June after which the top 50 will be selected. Voting will then open again for the title of mymostbeautiful BABY 2016 from the 20th to the 27th of June. The winner of South Africa's most exciting baby competition will be announced on 28th June 2016.
Chief Marketing Officer for mymostbeautiful , Monique Elliott is delighted to be part of the second mymostbeautiful BABY contest. "I cannot wait to see this year's adorable entries! Being a mother myself, I feel that the contest really brings the parenting community together and serves as a source of information and entertainment, a place where moms can really connect and share. I am also extremely proud that mymostbeautiful will be supporting the Mater Domini Home this year and through this competition and our circle of moms, we hope to return the positivity and joy that they've bestowed on the many mommies they have been able to help thus far!"
Best known to South African audiences as Katlego Sibeko on SABC3's Isidingo, the glamorous and graceful, Kgomotso Christopher will be a celebrity judge for the competition. Kgomotso is also mother to two gorgeous kids, Lesika (8) and Larona (7) and really excited to be part of this year's campaign. "It's great to be part of such an initiative. Motherhood and raising a little baby is such a special and happy time for most women. It's fantastic that the competition gives mother's the chance to celebrate and of course show off their beautiful babies. It is even more special that through the competition, less fortunate moms will also benefit and be given a chance at enjoying what should be a happy time for all mothers" added Kgomotso. Sharing the judges seat with Kgomotso will be Megan Taljaard (Mater Domini), Sheree O'Brien (owner of Splakavellis Management) and baby photographer, Tiffany Lumley.
Big Baby names have also come out in support as sponsors of the competition this year; Huggies (primary sponsor) alongside King Price Insurance, Cherubs, Mama Mio, MOM Diary, BuchuLife, Annabella Mater and Snowflake.