IWC Builds Massive GRP Fans Stacks for Kusile Power Station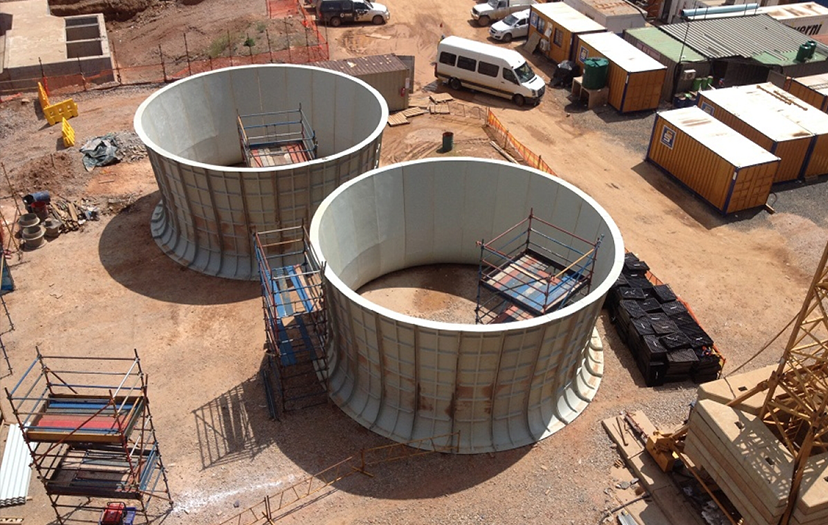 Eskom's new Kusile Power Station in Witbank, Mpumalanga, is set to benefit from the energy-efficiency of IWC's patented glass fibre reinforced plastic (GRP) fan stacks, four of which have been manufactured for one of the station's mechanical induced-draft cooling towers.
By incorporating the flared-diffuser design, which has a slightly tapered exit cone and a well-rounded inlet bell, these GRP fan stacks reduce the amount of energy needed to power the 9.15m axial fan, resulting in significant energy saving when compared to conventional fan stacks.
Comments Roger Rusch, CEO of IWC, "The flared fan stack design significantly reduces velocity pressure at the exit of the fan stack when compared to that of the throat (the ring in which the fan operates). Since the quantity of air is the same throughout the fan stack, the recovery of velocity pressure is converted into static pressure "regain", which lowers the total pressure requirements of the fan, thereby reducing its overall power consumption compared to conventional unflared fan stacks.
The fibreglass fan stacks will also deliver the added benefit of exceptional corrosion resistance, excellent impact-and-dent resistance, and easy maintenance, ensuring long-lasting performance."
The fan stacks, which took 12 weeks to manufacture at IWC's facility in Isando, Gauteng, measure 10.74m in base diameter, 9.23m in cylindrical diameter, 10m in flared diameter and 5m in height. It will now take IWC approximately four weeks to install the fan stacks on site.
In 2012, Eskom awarded IWC the contract to supply two, four-cell mechanical induced-draft concrete cooling towers for the Kusile Power Station. The latest fan stacks are for the second cooling tower, with IWC having already completed installation of the fan stacks in the first cooling tower. IWC has provided the same fan stacks on the auxiliary plant cooling towers for ESKOM's Medupi Power station.
These cooling towers are part of the Kusile Power Station's auxiliary cooling system and supply cooling water primarily for the turbine and boiler plant auxiliaries as well as compressor cooling and certain other items of the plant. Each of the cooling towers is designed for a flow rate of 16 000m³/h and has a heat rejection of 126 MW.
The Kusile Power Station is scheduled to commence commercial operations in the second half of 2017. The power station will comprise six units, each rated at an 800 MW installed capacity for a total capacity of 4 800 MW. Once completed, Kusile will be the fourth-largest coal-fired power station in the world.
why you should always avoid drying your clothes indoors
Living high up in a block of flats with no outdoor space for a washing line? A bit too skint to use the public tumble dryers? Or just residing in the UK with zero sunny days for pegging things out in the garden? Whatever the reason, we're all guilty of drying clothes indoors.
But it turns out that popping your wet towels, socks and undies on a clotheshorse in the living room for a few hours could actually be pretty bad for you.
The Asthma Society of Ireland has issued a warning urging people not to dry their laundry indoors, as the added moisture to the room can lead to the growth of mould, and a whole lot of health-related issues.
Forever suffering from coughs and colds? Maybe it's time to start taking your washing to the tumble dryers. A moist, mouldy living space can really affect your breathing – particularly if you have asthma or a weakened immune system. It can even affect skin-related problems, too.
Pheena Kenny, of the Asthma Society of Ireland, told RTÉ, "Moist environments encourage the growth of mould which can release 'seeds' called spores. The spores can cause allergic reactions in some people. Mould and fungal spores are often invisible to the naked eye."
"Normally, when people breathe in these spores, their immune system helps get rid of them by coughing or sneezing. If you aren't sensitive to mould, you may never even experience a reaction. But for some people with asthma who are sensitive to mould spores, it can act as a trigger, causing asthma symptoms to get worse."
The solution? Whenever possible, get your washing dried outside or in a tumble dryer in a well-ventilated indoor space away from bedrooms and living areas. And remember to keep an eye out for mould or mildew popping up in damp and humid places – particularly bathrooms, kitchens and basements.
Ugh, adult life.
Partnering to save rhinos in Kwazulu-Natal
The beautiful 700ha Gwahumbe Game & Spa in Mid-Illovo, KwaZulu-Natal, is the latest private reserve to join the ranks of others which have dehorned their rhinos.
Its partnership with Husqvarna and Hilton veterinary surgeon Dr Ryan van Deventer will, hopefully, ensure the survival of the lodge's last remaining male rhino, eight-year-old Vuyo – and finally allow the expansion of its herd.
Previously, said Gwahumbe Game & Spa director Shanon MacKenzie, "We were too anxious about Vuyo's safety to allow him to be photographed, and we postponed adding to the herd because of the risk of poachers wanting their horns. We are extremely fond of him: he came here when he was just three. The decision to dehorn him was made with his survival and safety very much at the forefront of our minds."
The devastating decline in the rhino population – and the poachers' savagery– is just one of the issues on the agenda for this year's CITES COP17 Conference* (24 September-5 October in Johannesburg). Sadly, the battle for the animal's survival has been a losing one, until recently.
A local rhino-dehorning campaign, using Husqvarna outdoor power products, is proving highly successful in the bid to save these beautiful animals from poachers. In KwaZulu-Natal, particularly, the practice is gaining momentum, with increasing numbers of private game reserves voting for this option. The process was first used to help reduce poaching pressure in Zimbabwe in the 1980s. When rhinos are dehorned professionally, the horn is taken above the growth layer of the skin. Rhino horn is like a fingernail: you can cut it or trim it without stopping continued growth. But poachers brutally uproot the entire horn from its base under the skin in the bone.
Vet Dr Ryan van Deventer started working on the dehorning project a year ago in various KwaZulu-Natal areas, including, more recently, at the popular Gwahumbe Game & Spa. "Before dehorning, many rhino owners used ankle bracelets and horn transmitters for monitoring purposes," he said.
"Although some of them are still resistant to dehorning, as the poaching problem escalates more and more reserves are realising they need to minimise the risk to the animals.  It's not a total solution to the problem but merely part of a holistic plan to try to prevent poaching."
The Husqvarna Group, a global frontrunner in the manufacture of forest, agricultural and garden power products, has provided Van Deventer with a battery chainsaw and a petrol one – the petrol saw for the initial cutting, and the battery saw for the finer trimming.  Some vets who work with rhinos are also relying on Husqvarna's battery blowers to keep the rhino cool during the dehorning process. Battery products are fuel free so produce no harmful emissions. They are also quieter than their petrol equivalents and lower noise levels mean less anxiety for the sedated animal.
"The Husqvarna chainsaw is quicker than an oscillating saw," said Van Deventer. "Once the animal is immobilised and stable, the procedure takes about 20-30 minutes."
He said the Husqvarna blower played a vital role in keeping the rhino's core body temperature down, which was particularly important during the procedure, especially in the hotter seasons. "There is always a risk with anaesthesia, and added to this is that white rhinos are particularly sensitive to the opioids. So we want to perform the dehorning as efficiently and quickly as possible."
He said the recommended method to reduce poaching risk was to remove the horn as low to the base as possible, in addition to removing the side walls of the horn.  This just leaves a small rounded bump of horn, reducing the poaching risk to the animal."
Horns do grow back with time, but the rate depends on nutrition.  "Animals receiving a lot of supplementary feeding have faster horn growth, so dehorning every 15-24 months is a good guide.  But saying that, it's not good enough to merely dehorn and expect there to be no poaching threat: you must ensure other checks are also in place."
The plight of the rhino has gained international attention, and around the globe, various campaigns are creating awareness and raising funds to help conserve the animal.
Stefan Terblanche, former Springbok rugby player and CEO of the Rugby Legends, has added his voice to the chorus: "We must do all we can to reduce rhino poaching and I'm proud that we can help save the animal for future generations. It's far better to have a dehorned rhino that is alive and that we can still enjoy seeing in our reserves."
Husqvarna South Africa's marketing manager Jacqui Cochran said: "We are extremely committed to this project, and thrilled that our diverse range of equipment is being used for a cause as worthwhile as saving the rhino."
Winnie Madikizela-Mandela's 80th Birthday
Deputy President Cyril Ramaphosa attended the event, where he commended Madikizela-Mandela for showing the world that women have an important role to play in shaping the course of history.
"Indeed, Mama Winnie has had a life of mixed fortunes, taking it in her stride to represent everything about the tenacity of the human spirit," he said, referring to her as imbokoto (a rock).
"But she is not any other rock, she is a diamond, built to last a lifetime, built never to break."
He said Madikizela-Mandela was deprived of a normal family life, the absence of her husband, banned and imprisoned at will, but she stood firm. He praised her for defying the odds and raising her children in the absence of their father.
When the apartheid police came for her, Deputy President Ramaphosa said, she remained stoic in her determination to claim justice for her people.
"She remained a symbol of strength for the many women who had lost their husbands to the liberation struggle. Enduring the worst in the times of oppression, she ensured that the people would not lose heart.
"She served as a pictogram for those who lived in constant harassment from the apartheid state. Regardless of her own pain, she ensured that the children and families of liberation were clothed and fed.
"Her greatest accolade was to ensure that Madiba [her late ex-husband Nelson Mandela] would never be forgotten, that his name would remain on the lips of the oppressed people of the world," said Deputy President Ramaphosa.
He said away from the glaring eye of the public, Madikizela-Mandela shouldered her pain alone, with inadequate recognition for her sacrifices.
"That is why her 80th birthday is so important for us to tell her while the gods have spared her, we love her and thank her for keeping our struggle alive."
Deputy President Ramaphosa said from Madikizela-Mandela's book of life, future generations will take a leaf on what it means to be a phenomenal woman.