"Im so filled with passion, I live exuberantly and passionately in everything that I do"
You would be forgiven for thinking Carol Tshabalala is referring to the various work she invoked in. It's not that simple. That was her response to me commenting on her energetically infectious personalized voicemail.
For the duration of our chat Simply Carol's voice is bubbly and her words are shades of majestic. The manner in which her mind works will leave you inspired and filled with the desire to do more with life.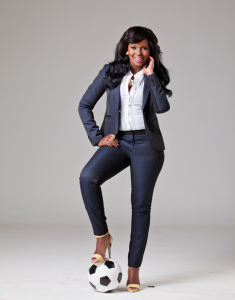 Q: Your social media handle, was that a light bulb moment?
Carol Tshabalala: It certainly was, at the time I had just gone through a divorce and a lot of people had known me as Carol Manana my previous surname. I was claiming back my surname of Tshabalala. I realized a lot people were confused every time I would say I'm Carol Tshabalala. They were like Tshabalala where does that come from, did you marry shabba. What's going on?. I said you know what I am simply carol. Let's leave it that.
Q: You have a show a diski show every Monday on Supersport four. Back pages, what's it like working on that show?
Carol Tshabalala: I love back pages because it's a different kind of futbal review show. We get the journalists into the studio. We give the fans as well an opportunity to interact with the journos who write the stories that we read about. To find out how they came up with their leads, what's happening, the latest behind the scenes news as well. The journalists here go to great lengths to come up with scoops, they really know the stories in depth.
Q: I hope to see you anchoring more champions league broadcasts. To me Carol Tshabalala isn't a side show, she's the main attraction.
Carol Tshabalala: This is the one thing that I speak about all the time. Yes we're getting more females coming into the industry but let's own this field, let's be there anchoring our shows. I've done a few champions league shows in the past and you know every single final I've been there, pitch side at the stadium. I was in Berlin last year. Doing the build up to the final. I've done it. Been there done that. Still doing it.
Q: You've got amazing connections abroad. Could we see carol moving, going overseas?
Carol Tshabalala: We certainly could. At some stage but I'm never ever going to completely cut ties with Supersport or South Africa, my Africa. I love Africa. Already this year I was abroad. I've featured on fanzone live from their UK studio. You could see more of that in the future and plenty other international appearances as well definitely.
Q: You're one of the more expressive personalities on Twitter. When you want to say something, you put it out there.
Carol Tshabalala: I do. I do indeed.
Q: Is it difficult managing between giving out too much or too little. Where do you stand on that.
Carol Tshabalala: Not really. You know what. I think I'm quiet a boring individual (laughs). There's never really much when it comes to controversy. I'm not a controversial individual at all. That's why I'm able to put out as much as I do on social media. I talk about my family, I talk about my work, I talk about my travels. It's always really exciting. I've got an adventure filled life. What's great is that, there's no controversy. It's not in my nature. It's not my life.
When Simply Carol isn't in the studio, giving us an astounding view of local soccer. You'll finding her posted court side with her NBA family. Take a moment to drink in Carol's allure on her Instagram, she's a knockout. In her words "I box almost on the daily to keep fit". Felicitous for a golden gloves ambassador.
Q: What's your world like, away from sport.
Carol Tshabalala: I love reading. I read fiction. I believe that your everyday life is a reality. So I like to get away, it's almost like traveling without really moving. I love my music, hiphop in particular.
Q: We can spot you on commercials these days. That must be a different aspect to what you do on the daily.
Carol Tshabalala: It certainly is. I choose the brands that I'm associated with very carefully. I get involved with products that speak to who I am as an individual.
Q: What are you currently listening to.
Carol Tshabalala: Tory lanez is on my playlist. Wait let me look at my playlist. What else do I have. I'm listening to Young Thug, Future, Beyoncé's formation, Drake.
Q: There is nothing stale, boring, uninteresting about you with that playlist. I feel like we're about to start a party, a turnup.
Carol Tshabalala: (laughs) I had to keep up. I have three sons. Mom has got to keep up. I have to stay the cool mom that I am.
Q: Do you have rituals, that unleash your game face.
Carol Tshabalala: Not really hey. This is natural for me. People also ask if I get nervous. More than anything. I get excited. That's it.
Q: What's your hope for the next generation of women in sport.
Carol Tshabalala: There are many opportunities out there for us. We've got many icons that have proven time and again that really and truly nothing is impossible. Let's go out there and own our stage. Look further than being great in South Africa, in Africa. Let's aim to be global.
As we press stop on this chat or rather blow the final whistle. It's worth reflecting this was no ordinary conversation. This was more of a journey. From Cape to Carol.